Week 2
Consists of the following topics

Review of the cardio-vascular system

Introduction to the cardiovascular system
1 of 4

2 of 4


3 of 4

4 of 4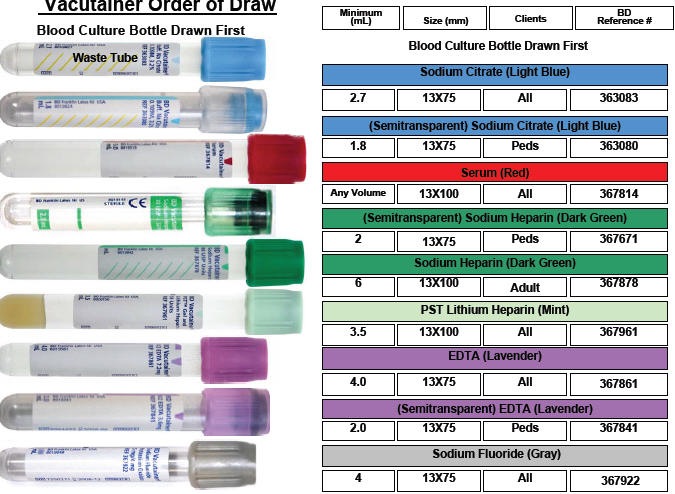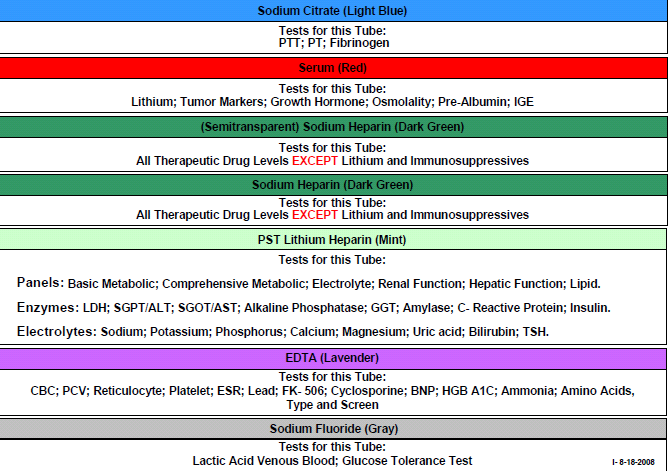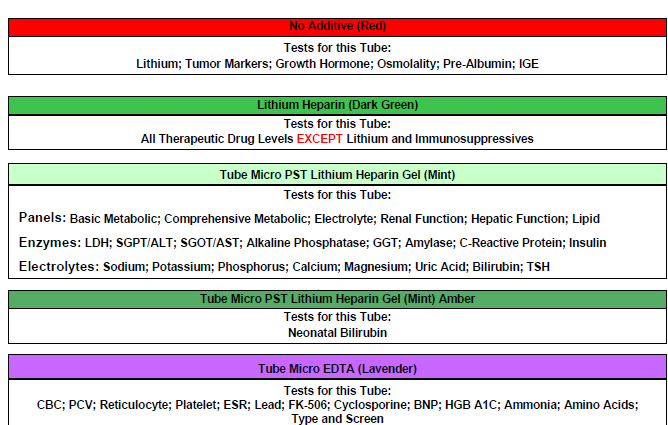 cardiology-function-and-venipuncture
Specimen_Collection_Blood_by_Finger_Puncture
BacT/Alert Blood Culture Collection
BacT/Alert Process Bottle Principle
Patient Samples are placed in disposable sterile culture bottles for continuous
monitoring by BacT/Alert. Each bottle contains an internal colorimetric sensor on
the bottom that detects carbon dioxide as a measure of bacterial growth. If
bacteria are in the patient's blood, they will produce CO2 and the sensor will
change from blue-green to yellow. The instrument detects this increase in
reflectance during testing.
· General Information
Media used for collection:
BacT/Alert SA (Aerobic) Bottle
BacT/Alert SN (Anaerobic) Bottle
BacT/Alert PF (Pediatric) Bottle
Media Storage:
Store all media at room temperature. Observe expiration date.
Recommended Frequency of Blood Cultures:
· Acute sepsis, meningitis, pneumonia, etc: Obtain two or three blood
samples from separate sites before starting therapy.
· Continuous bacteremia and suspected endocarditis: Draw three
samples from separate sites and begin therapy. If all are negative
24h later, obtain three more samples.
· Patients on antimicrobial therapy: Collect sample prior to the next
dose of antibiotic.
· Fever of unknown origin: Draw two or three separate initial samples.
Obtain two more samples after 24 to 36 hours.
Duration of Incubation
Maximum test time will be 5 days. Incubation time for a bottle can be
changed as needed (e.g. 21 days for suspected yeast).
Specimen Volume
Adult: Up to 10ml blood or normally sterile body fluid
Pediatric: Up to 4ml blood
If only enough blood has been drawn to fill one bottle, inoculate an aerobic bottle.
· Collection
Specimen collection is extremely important in obtaining blood cultures.
Proper skin disinfection is essential to reduce the incidence of
contamination. Universal Precautions must be followed.
Skin Preparation
· After location of the vein, scrub the venipuncture site with 70% alcohol
for a minimum of 30 seconds.
· Apply iodine solution (1-2% tincture of iodine) for 30 seconds in
concentric circles away from the puncture site covering a circular area
1 to 2 inches in diameter.
· For patients with iodine sensitivity, cleanse with alcohol for 60
seconds.
· Allow site to air dry for I minute before venipuncture. Do not re-palpate
the vein.
Bottle Preparation
· Inspect the bottle surface, the media, and the sensor. Ensure that the
broth is clear and the sensor is intact and a blue-green color. Do not
use a bottle if the sensor is yellow, media is cloudy, or if the
bottle is cracked or has been dropped.
· Remove protective flip top overcap.
· Cleanse the rubber stopper with 70% alcohol or iodine solution. Iodine
adds a visual confirmation that the stopper has been disinfected.
· Allow to dry 1 minute before inoculation.
Venipuncture and Bottle Inoculation: Using on of the following methods to
obtain the sample and inoculate the bottles.
· Needle and Syringe: Draw appropriate amount. Directly inoculate the
bottles, using the syringe markings as a guide for correct volume.
Inoculate aerobic bottle first, then anaerobice bottle. Take care when
inoculating bottles, in general, do not have any air introduced from
the syringe into the anaerobic bottle.
OR
· Direct Draw with Butterfly: Use the BacT/Alert Adapter Cap (and insert, if
needed for other blood collection tubes).
· Connect the Adapter Cap to the luer connector of the butterfly
collection set.
· Perform venipuncture. When the needle is in the vein, secure it
with tape or hold in place.
· Place Adapter Cap on the aerobic BacT/Alert culture bottle rubber
stopper and press down to penetrate and obtain blood flow. Hold
the Adapter Cap down on the bottle.
· After obtaining the specified amount of blood, move the Adapter
Cap from the aerobic bottle to the anaerobic bottle and continue the
collection.
· If additional blood is required for other tests, place the Adapter
Insert into the Adapter Cap and snap into place. This makes the
cap compatible with vacuum collection tubes.
· After blood collection is complete, remove the Adapter Cap from
the culture bottle and then remove the needle from the patient's
vein.
· Label Bottles with: Patient's name, Medical Record #, date, time, and site
used. Take care not to cover barcode labels and lot numbers. If
laboratory labels are available, put label around bottom of the bottle not
covering the barcode.
· Send bottles to the laboratory immediately; DO NOT REFRIGERATE.
· REMINDERS:
· Recommended blood to broth ratio is 1:5 to 1:10. As the volume of blood
drawn is increased, the yield of positive cultures increases. Optimally,
20ml of blood should be drawn from adults (10ml per bottle).
· Do not overfill the bottles, this may cause false positive readings.
· For best volume control, mark the fill level on side of bottle prior to
collection.
· When using Adapter Caps, be sure luer is connected firmly and the needle
is straight when entering and leaving the rubber stopper. Twisting or
turning the bottle may increase the chance that the sheath may not retract
and reseal.
· To avoid contamination of the blood culture sample, inoculate blood
culture bottles first, then fill additional blood collection tubes.
· When labeling the bottles, do not cover barcode labels or the lot numbers.
· A different site should be used for each culture set collected.
· Please direct any questions to the Laboratory's Microbiology Department.
Review of Today's lecture
Blood Cultures, are always the first in the order of draw. Blood cultures require special attention to the way they are collected and stored. It is acceptable to clean the tops of the blood culture tubes with one swipe of alcohol, however you do not want to clean the ante cubital fossa with alcohol. Be sure to clean the ante cubital fossa with soap and water, then follow with a betadine scrub. Blood culture tubes come in many shapes and sizes. Those most often used in the metro Detroit area are the Bac Tec tubes. These tubes come with tops colored blue and lavender. The blue represents aerobic tubes, and the lavender represent anaerobic tubes. When drawing with a butterfly needle, the phlebotomist must always draw the aerobic tube first. Why? According to the N.H.A., what color of blood culture tube do you use?
We looked at military time, medical charting and liability. Although we did not cover the heart and the serum separator tubes students were requested to continue week two reading assignments.
Let's look a the heart.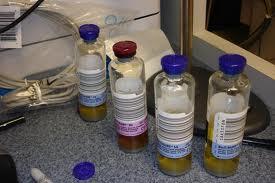 (Please see video on blood cultures under the Reference tab.)
HOW TO COLLECT BLOOD CULTURES:
BLOOD CULTURE COLLECTION
Two different types of blood cultures are used by the Clinical Laboratory, necessitating different
techniques; Bactec™ bottles and Isolator™ tubes.
Bactec™ Bottles: Highly sophisticated and well-controlled laboratory technology is useless if the
specimen you are submitting for analysis is riddled with error because of faulty identification or
poor collection techniques. For blood culture collection it is necessary to carefully disinfect the
venipuncture site by cleansing with appropriate supplies and following a specific stepwise
procedure in order to produce test results that will be of value to the physician. The presence of
organisms in the patient's blood almost always reflects active infection in the tissue. For each
septic episode, pathogen recovery depends on the following:
Remember that Blood Cultures are to be collected before any other blood sample (this will
minimize the risk of contamination).
Collection of an Appropriate Number of Cultures (FREQUENCY): Since the presence of
septicemia can be intermittent, the number of cultures performed during a septic episode is
crucial to recovery of an organism. The following guidelines should be followed in determining the
number of cultures drawn:
1. Acute Sepsis- 2-3 sets from separate sites within 10 minutes.
2. Acute Endocarditis- 3 sets from 3 sites over 1-2 hours.
3. Subacute Endocarditis- 3 sets from 3 sites taken greater than 15 minutes apart.
4. Fever of unknown origin- 2-3 sets from separate sites at greater than 1 hour apart.
• Rarely are more than 3 sets of cultures necessary.
• Cultures should be drawn before antimicrobial therapy is initiated.
• No more than 3 sets of blood cultures will be accepted in a 24 hour period or 3 sets per
febrile episode. If a physician insists, a consultation with the Director of the microbiology
laboratory is warranted.
Collection of Adequate Blood Volume: Volume of blood seems to be the single most important
factor affecting yield from the culture. The purpose in using appropriate volume is to overcome
the small number of bacteria commonly associated with most bacteremias in adults. Optimum amount:
• 10 cc of blood per bottle for Bactec Plus Aerobic/F (gray cap) and Bactec Lytic 10
Anaerobic/F (purple cap)
• I – 3 cc of blood in Peds Plus/F (pink cap)
Minimum amount:
• 3 cc of blood per bottle for Bactec Plus Aerobic/F (gray cap) and Bactec Lytic 10
Anaerobic/F (purple cap)
• 0.5 cc of blood in Peds Plus/F
Note: a set is defined as a Bactec Plus Aerobic/F (gray cap) bottle and a Bactec Lytic/10
Anaerobic/F (purple cap) bottle OR a single Bactec Peds Plus/F (pink cap) bottle. (Please see
chart for volume dependent collection requirements).
Aerobic-Gray cap Anaerobic-Purple cap Peds Plus-Pink cap
< 3cc Put 0.5 – 3 cc in 1 pink bottle 3 cc 3 cc 4 cc 3 cc 1 cc 5 cc 4 cc 1 cc 6 – 20 cc ½ sample into this bottle ½ sample into this bottle >20 cc 10 cc (never add
more
than 10 cc)
10 cc (never add
more
than 10 cc)
Venipuncture process: After the patient has been positively identified and the requisition
reviewed, assemble the necessary supplies (note that only a butterfly collection device or syringe
can be used in the collection of blood cultures because of difficulty in controlling volume and
potential backflush of bottle contents).
1. Place the Bactec™ bottles on a flat surface and mark each bottle with the optimal amount of
blood needed.
2. Put on gloves 3. Remove the flip cap from the Bactec™ bottle(s) and clean the stopper(s) with alcohol (do not
use betadine, iodine or acetone as this will cause the rubber to deteriorate)
4. While the alcohol dries position the patient and assess the appropriate access route for the
venipuncture.
5. Palpate the vein and apply a tourniquet if needed.
6. Prepare the patient's skin for the venipuncture by the following procedure listed below:
• Clean the venipuncture site with a 70% isopropyl ethyl alcohol pad using a circular
motion from the center to the periphery.
• Allow the area to air dry.
• Clean the same area, using concentric circles once again, with a betadine swab.
• (Note: if the patient is allergic to betadine, you may use 2 different alcohol wipes to
cleanse the skin)
• Allow the area to air dry.
7. Remove a butterfly collection device from the package and attach the vacutainer holder to the
end and perform the venipuncture. (See syringe section of venipuncture procedure for details
in collection and transference of blood to evacuated systems).
8. Move the vacutainer holder to the Bactec Plus Aerobic/F (gray cap) bottle and fill in the same
manner.
9. Ensure that your collection bottle is on a flat surface and place the vacutainer holder over the
Bactec Lytic/10 Anaerobic/F (purple cap) bottle and push down through the rubber stopper.
10. Allow the bottle to fill by vacuum until the blood has reached the predetermined volume mark
at the side of the bottle. DO NOT OVERFILL THE BOTTLES, MAXIMUM VOLUME IS 10 cc.
The bottle will overfill if the holder is not removed when the appropriate volume has been
reached.
11. The Bactec Peds Plus/F (pink cap) bottle can be filled following the same procedure. Do NOT
OVERFILL THIS BOTTLE, MAXIMUM VOLUME IS 3 cc.
12. Other vacutainer collection tube(s) can then be filled. Be sure to follow the tube order-ofdraw listed on page 32. 13. If a Butterfly (Safety-Lok™) is used to collect the specimen, be sure to withdraw the needle
from the patient by grasping the wings of the device. Do not withdraw by holding the SafetyLok™ shield. After it has been removed, engage the safety device as follows:
• Hold either wing with one hand
• Hold the grip area at the base of the yellow safety shield with your other hand
• Slide the wings back into the safety shield until a sight "snap" is felt. This indicates that
the needle is retracted completely and locked securely in place.
• Dispose into the nearest sharps container.
14. Apply pressure on the venipuncture site.
15. Remove the betadine from the patient's arm by cleaning with an alcohol pad (Cleansing with
soap and water is also acceptable) after ensuring all bleeding from the site has stopped.
Properly Label the Bottles & Forward to the Laboratory: Place an appropriate label "flag" style on
the neck of the bottle. Do not cover any part of the barcode or the bottom of the bottle. Note
the site of collection along with the date and time of collection on the requisition and initials (or
last name) as to who drew the specimen. Remove the unique barcode strip from each bottle
(links that specific site/draw to the requisition) and place on the requisition.
Place the bottles in a plastic ziplock bag for transport to the laboratory. Place the folded
requisition in the outside flap of the bag with the patient's name and TOO# visible. Submit one
requisition per venipuncture site/drawn
Order of Draw (2nd in the order of draw)
BLUE TOP TUBES, Preservative is Sodium Citrate (NaCitrate) 0.3mL's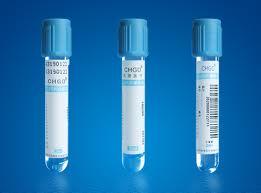 Coagulation & Fibrinolysis
Coagulation Profile:
APTT (activated partial thromboplastin time)

PT (prothrombin time)

Antiplasmin

Plasminogen

TCT (thrombin clotting time)

D-dimer

Euglobulin Lysis Time

Factors (coagulation factor assays)

Fibrinogen: activity and concentration

(ELISA antigenic determination)

Factor II

Factor VII

Factor VIII

Factor IX

Factor X

Factor XI

Factor XII

This tube contains sodium citrate as an anticoagulant – used for collection of citrated plasma for coagulation studies.

NOTE: After the tube has been filled with blood, immediately invert the tube 3-4 times to mix and ensure adequate anticoagulation of the specimen.

It is imperative that the collection tube is filled with stated volume of blood. Under-filled tubes will result in falsely prolonged values due to dilution of plasma with anticoagulant; and therefore cannot be processed. For example, 3.0 mL collection tube must have 2.7 mL of blood to 0.3mLs of sodium citrate.

When drawing with a butterfly needle, students' must do a waste tube using a red glass tube.
Serum Separator Tubes SS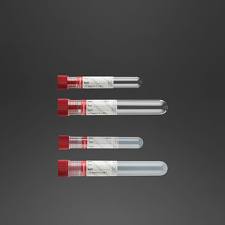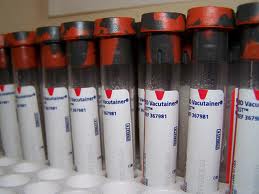 Gold-Top Serum Separator Tube (SST®): This tube contains a clot activator and serum gel separator – used for various chemistry, serology, and immunology tests. If the specimen requirement for a test is red-top tube(s), do not use gold-top/SST® tube(s).
NOTE: Invert the tube to activate the clotting; let stand for 20-30 minutes before centrifuging for 10 minutes. If frozen serum is required, pour off serum into plastic vial and freeze. Do not freeze Vacutainer® tubes.
Red-Top Tube, Plastic: This tube is a plastic Vacutainers containing a clot activator but no anticoagulants, preservatives, or separator material. It is used for collection of serum for selected laboratory tests as indicated. If the specimen requirement for a test is red-top tube(s), do not use gold-top/SST® tube(s), as the gel separator may interfere with analysis.
Red-Top Tube, Glass: This tube is a plain glass Vacutainer® containing no clot activators, anticoagulants, preservatives or separator material. These tubes can be used for Blood Bank tests and waste tubes when using a butterfly, except if doing blood cultures using aerobic and anaerobic vials. (with these types of blood culture vials, oxygen must be put into the vial from the ambient air in the butterfly tube, therefore there would not be any waste tubes used)
Light Green-Top Tube (lithium heparin): This tube contains lithium heparin and gel separator– used for the collection of heparinized plasma for routine chemistry tests.
NOTE: After the tube has been filled with blood, immediately invert the tube 8-10 times to mix andensure ensure adequate anticoagulation of the specimen.
DARK GREEN TOP TUBE FOR STAT DRAWS



This tube contains sodium heparin or lithium heparin – used for the collection of heparinized plasma or whole blood for special tests.
NOTE: After the tube has been filled with blood, immediately invert the tube 8-10 times to mix andeensure adequate anticoagulation of the specimen.
Test Description Tube Type
(Electrolyte Panel (Lytes) Sodium, Potassium, Chloride, CO2 )
SST Tube
Basic Metabolic Panel (BMP)
Electrolyte Panel, BUN, Calcium, Creatinine, Glucose
SST Tube
Comprehensive Metabolic Panel (CMP)
Electrolyte Panel, BUN, Calcium, Creatinine, Glucose, Albumin, Alk.
Phos., ALT (SGPT), Total Protein, AST (SGOT), Total Bilirubin,
SST Tube
Lipid Panel (LIPID)
Cholesterol, HDL Cholesterol, Triglycerides, LDL (calculated)
SST Tube
Hepatic Function Panel (HFP)
Albumin, Alk. Phos., AST (SGOT), ALT (SGPT), Direct Bilirubin,
Total Bilirubin, Total Protein
SST Tube
Renal Panel (RENAL)
Electrolyte Panel, Albumin, BUN, Creatinine, Calcium, Glucose,
Phosphorus
SST Tube
Prenatal Panel (PRENP)
CBC(Reflex), ABO & Rh (Blood Type), Antibody Screen (Reflex),
RPR (Reflex),, Rubella, Hepatitis B. Surface Antigen (Reflex)
2 SST Tubes
Acute Hepatitis Panel (HPABC)
Hepatitis A Antibody IgM, Hepatitis B Surface Antigen (Reflex),
Hepatitis B Core Antibody IgM, Hepatitis C Antibody
SST Tube
ORDER OF DRAW FOR SST"S
GOLD, THEN RED, THEN GREEN (REMEMBER Green is stat, but you must still use order of draw. Do not draw first!)
LAVENDER-TOP TUBE (EDTA)
This tube contains K2EDTA as an anticoagulant – used for most hematological procedures. These tubes are PREFERRED for hemoglobin tests, molecular tests.
NOTE: After the tube has been filled with blood, immediately invert the tube 8-10 times to mix and ensure adequate anticoagulation of the specimen.
To avoid RBC shrinkage due to excess EDTA (with resulting changes in HCT and RBC indices values) and possible dilutional effect, the tubes should be filled with the proper amount of blood for the size of tube used. Tubes with various draw volumes are available (2.0 mL, 3.0 mL, 5.0 mL and 0.75 mL microvettes); to assure proper ratio of EDTA to blood, it is recommended that the tubes contain no less than one-half of the stated volume.
TESTS THAT CAN BE PERFORMED ON LAVENDER TOP TUBES
HEMOGLOBIN
HEMATOCRIT
COMPLETE BLOOD COUNT; CBC/WITH DIFF
WHITE BLOOD COUNT; (LEUCOCYTES, NEUTROPHILS, BASOPHILS, EOSINOPHILS, LYMPHOCYTES),
ESR/ERYTHROCYTE SEDIMENTATION RATE
RETICULOCYTE COUNT
PINK TOP TUBES (PRESERVATIVE =K2EDTA)

tests include
BLOOD BANKING/TYPE AND CROSS MATCH
ROYAL BLUE TUBES (PRESERVATIVE = K2EDTA)
tests include the following; all the below mentioned tests must be done in one tube each.
Blood Heavy Metals (e.g.,
Arsenic, Lead, Mercury,
Cadmium, Chromium,
Zinc)
GRAY TOP TUBES
ALL GLUCOSE TESTS, INCLUSIVE OF FASTING BLOOD SUGARS, 2 HOUR, 3 HOUR, 4 HOUR AND 6 HOURS, ALSO INCLUDE
BLOOD ALCOHOL LEVES, (NEVER USE alcohol when prepping the skin)
White tubes
these tubes are used for HIV tests, viral load tests, such as Hepatitis B, C, E and tests that are transported only using the patient's number
REVIEW OF MEDICAL TERMS AND LECTURE
Before puncturing, the patient's skin should be cleaned. Povidone-iodine (Betadine) can be used, or alcohol, unless an ETOH level is being drawn (alcohol on the skin may elevate an ETOH result). Povidone- iodine should always be used if blood cultures are to be drawn.
Techniques to find a vein include lowering the arm into a dependent position to help dilate the veins; applying warm soaks on the arm to improve venous dilation; and having the patient open and close the fist after applying a tourniquet. The health care provider can also attempt to palpate a vein where it is expected to be, since veins can often be felt, yet not seen. Arteries pulsate and have a thick wall. Thrombosed veins feel cord-like, and roll easily.
There are three veins in the antecubital (the inner or front surface of the forearm) area that are appropriate for venipuncture: the medial, cephalic, and basilic veins. The vein of choice is the medial, because it is usually the closest to the skin's surface, the largest, and usually the least painful to puncture. If the antecubital sites cannot be accessed, wrist and hand veins are also acceptable for venipuncture.
Venipuncture is usually done using a vacuum container (Vacutainer) system. This system consists of vacuumized specimen tubes, a needle, and a plastic holder. When the tube is placed into the holder and pressed against the needle, negative pressure results, and blood is pulled into the tube. Normally, a 21-gauge needle is used to collect blood. Occasionally, depending on the test ordered and specific patient circumstances, a larger or smaller diameter needle may be appropriate. Never insert the needle at greater than a 30 degree angle. Doing so increases the possibility of passing through the vein and into those structures lying underneath, raising the chances of permanent injury to the patient.
A number of other guidelines should be considered when performing venipunctures for blood specimen collection. These include:
Avoid drawing blood from an arm affected by a stroke or neurological injury that has resulted in a loss of sensation. The patient may not be able to alert you if they experience pain or other problems.
Avoid drawing blood from the arm on the affected side if a woman has had a mastectomy (full or partial breast tissue removal).
Avoid areas with extensive scarring. Scar tissue is difficult to puncture.
Attempt to collect the blood specimen from the opposite arm if a patient is receiving intravenous fluids, since fluid may dilute the blood sample.
Do not use a site that is swollen, affected by certain skin conditions like eczema, or is infected.
Use the right specimen tubes. Using the wrong tubes will cause the specimen to be rejected by the laboratory.
Try using pediatric tubes when a patient has fragile veins that may not provide a large enough specimen. Though the smaller tubes store less blood, they will still give reliable results.
Remove the tourniquet when the final tube of blood to be drawn is filling.
Send the specimen to the laboratory as soon as possible.
Blood collection tubes come with a variety of colored stopper caps, and may contain additives. The following tubes are the most commonly used types:
Red top. This tube contains no additives. It is used for a variety of tests, including blood typing and cross- matching.
Tiger top or serum separator tube (SST). This tube contains a polymer gel and clot activator. When placed in a centrifuge, the serum is separated out. The SST is commonly used for blood chemistries.
Lavender top. These tubes are used primarily for obtaining complete blood counts. They contain EDTA, an anticoagulant additive that chelates calcium.
Dark green top. Green top tubes contain the anticoagulant heparin and are often used to obtain lithium and ammonia levels.
Light blue top. The light blue top tubes contain sodium citrate, an agent that removes calcium, and are used to obtain protime (PT) and prothrombin time (PTT).
Light gray top. This specimen tube contains sodium fluoride and potassium oxylate, antiglycolytic agents that preserve glucose for up to five days. The tube is used primarily to obtain glucose levels.
It is important that blood collection tubes be drawn in a certain order to avoid the cross-contamination of additives between tubes. It is recommended that tubes be drawn in the following order:
Yellow-black stopper (blood culture tube).
Red top.
Light-blue top. This should not be the first tube drawn. If a coagulation assay is ordered alone, draw a non- additive tube first (red or SST), then draw the light-blue top tube.
Additive tubes in the following order: dark green, lavender, light gray.
All tubes containing additives should be thoroughly mixed. Not doing so can result in inaccurate test results.
Venipuncture is not always possible or appropriate for the blood specimen required. In these cases, a finger- stick or heelstick may be the method of choice for obtaining the specimen.
The best locations for fingersticks are the third and fourth fingers of the patient's non-dominant hand. Avoid using the center, tip, or side of the finger. Avoid sticking areas that are thick or callused, where there is little soft tissue, or where the bone is close to the surface. Do not puncture a finger that is swollen, cyanotic (blue because of oxygen deficiency), or scarred. The fingerstick is done using a sterile lancet. The first drop of blood should be wiped away, as this first drop tends to contain extra fluid from the tissues. Instead of firmly milking the finger, it should only be gently massaged to gain drops of blood. Milking can squeeze tissue fluid into the drops of blood and alter laboratory results.
A heelstick is the preferred method of blood collection on a newborn baby or infant. In order to increase the flow of blood to the heel, the baby's heel should be prewarmed. (Avoid using too high a temperature as a baby's skin is easily injured.) The site to be punctured should be cleaned with alcohol, then dried with a dry cotton ball. The baby's foot should be held firmly to avoid sudden movements, then the side of the heel is punctured using a sterile lancet. Puncturing the center area of the heel should be avoided, as this can injure the underlying bone. Gentle pressure can be used to increase the flow of blood. To avoid diluting the specimen with excess tissue fluid, do not apply too much pressure.
After performing either a fingerstick or heelstick, a gauze pad or cotton ball should be applied for about a minute, making certain the bleeding has stopped.
Preparation
The patient should be instructed about what blood tests have been ordered and why. Furthermore, explain the procedure and what the patient can expect. Ask the patient if anyone has had trouble drawing blood from him or her in the past. This may an alert to potential problems in finding an appropriate vein. Also ask the patient what position would be most comfortable for them when drawing the specimen. Venipuncture makes many patients nervous, and having them lie down may help them to relax and better tolerate the procedure.
Aftercare
After obtaining the ordered specimens, remove the needle from the vein and discard into a puncture-proof container. Pressure should be applied to the site for about a minute (longer if the patient is on any anticoagulants). After applying pressure, inspect the site for any signs of bleeding or hematomas. Apply a bandage to the site. The specimen containers should then be labeled and sent to the laboratory. Make sure the patient is comfortable and not experiencing any adverse affects before allowing them to get up.
Complications
Though venipuncture is routinely done and relatively safe, there are a few complications that can occur, including hematoma formation, hemolysis, and hemoconcentration. In addition, excessive bleeding can occur, and many patients have been known to faint during the procedure.
Health care team roles
Blood specimen collection is performed primarily by nurses and phlebotomists. The physician orders the laboratory tests. The nurse is responsible for instructing the patient regarding the procedure and assessing the patient's response. In addition, the nurse should be knowledgeable about the implications laboratory results may have on patient care.
---
KEY TERMS
---
Hemoconcentrationn increased concentration of larger molecules and formed elements in the blood.
Hemolysis The destruction of red blood cells which leads to the release of hemoglobin from within the red blood cells into the blood plasma.
Yellow-Top Tube (ACD): This tube contains ACD, which is used for the collection of whole blood for special tests.
NOTE: After the tube has been filled with blood, immediately invert the tube 8-10 times to mix and ensure adequate anticoagulation of the specimen.
Pearl White-Top Tube Plasma Preparation Tube (PPT™): This tubes contains EDTA and a special polyester material – used for the collection of plasma for molecular (PCR) tests.
NOTE: After the tube has been filled with blood, immediately invert the tube 8-10 times to mix and ensure adequate anticoagulation of the specimen.
Special Collection Tubes: Some tests require specific tubes for proper analysis. Please contact the laboratory prior to patient draw to obtain the correct tubes for metal analysis or other tests as identified in the individual test listings.
Microtainers (pediatric bullet tubes)
Microtainer
Color Gold Red Light Green Lavender
Additive No additive w/ gel barrier No additive Lithium Heparin w/ gel barrier K2EDTA
Volume 0.5 mL 0.5 mL 0.5 mL 0.5 mL
Microbiological Collection Containers
–Top–
Anaerobic Transport Media: Tube with soft agar and reducing agents designed to maintain viability of anaerobic organisms. Fluid can be injected through the diaphragm cap into the tube. To transport swab specimens or tissue, remove the cap, place the specimen into the tube (break off the swab stem if needed) and replace and tighten cap.
Blood Culture Media: Draw 20 mL of blood and aseptically inoculate 10 mL into each of the 2 bottles: BACTEC PLUS (blue label) and BACTEC LYTIC (purple label). Use an alcohol prep to clean the top of each bottle before and after inoculation.
Charcoal Amies Medium with Swab: This swab is used for the collection and transport of specimens for Bordetella isolation. The specimen of choice is secretions collected from the posterior nasopharynx. Culture Swab™ must be submitted for direct examination.
Chlamydia Culture Transport Medium: Use the swab provided to collect the specimen and inoculate the transport medium. If specimen transport is delayed, refrigerate after inoculation.
Chlamydia trachomatis MicroTrak® Direct Stain Specimen Collection Kit: This is used in the collection of specimens for analysis by the MicroTrak® C trachomatis direct specimen test. The kit contains slide, swabs, cytology brush, and fixative. The directions for use are on the package.
Culture Swab™: This sterile swab is used for the collection and transport of specimens for routine bacterial culture.
HSV 1, HSV 2, VZV MicroTrak® Direct Stain Specimen Collection Kit: For use in the collection of specimens for analysis by the HSV1/HSV2 and VZV direct specimen typing test. This test is for external lesions only. The kit contains slides, swabs, fixative and directions for use. Collection kits are available in Microbiology.
Isolator™ Microbial Tube (adult and pediatric): These tubes are used for the collection of blood specimens for the isolation of fungi and mycobacteria. Transport to the laboratory at ambient temperature.
Viral Culturette®: This sterile swab is used for the collection and transport of herpes and viral specimens. Transport to the laboratory on wet ice.
Urine_Collection
–Top–
Random Collection: For routine analysis and microscopic evaluation, have the patient void into a clean container. A clean-catch or midstream specimen is preferred. The patient should first void a small amount of urine, which is discarded. Some of the urine should then be collected in a clean container before voiding is completed. The specimen should be capped, labeled, and refrigerated.
Urine Collection for Chlamydia/Gonorrhea PCR: Patient must not have voided for at least 2 hours. The first stream of urine is collected and submitted for testing.
24-hour Urine Collection: UCI Pathology Services provides 24-hour urine collection containers.
Use the following procedure for the correct specimen collection and preparation:
1) Warn the patient of the presence of potentially hazardous preservatives in the collection container. Instruct the patient to discard the first morning specimen and to record the time of voiding.
2) The patient should collect all subsequent voided urine for the remainder of the day and night. The first-morning specimen on day two should be collected at the same time as noted on day one.
3) Mix well before aliquoting and provide the total volume of the 24-hour urine collection or send the complete 24-hour collection to the laboratory.
Test Your Phlebotomy Knowledge with Week 2 Practice TEst
[arve url="https://youtu.be/Q1znHHSVOes" maxwidth="900″ /]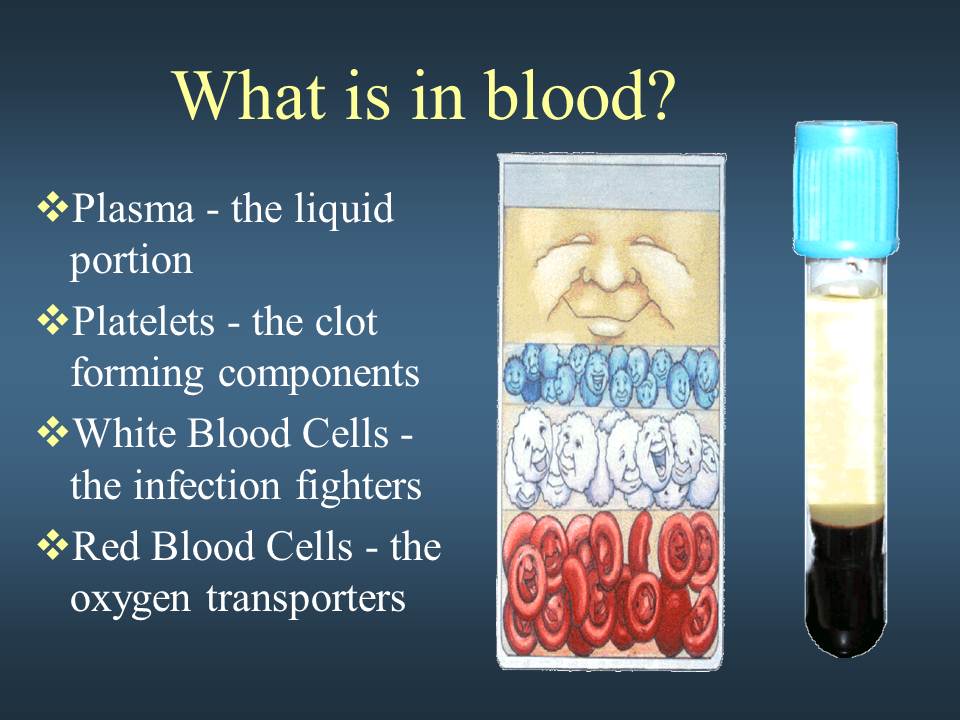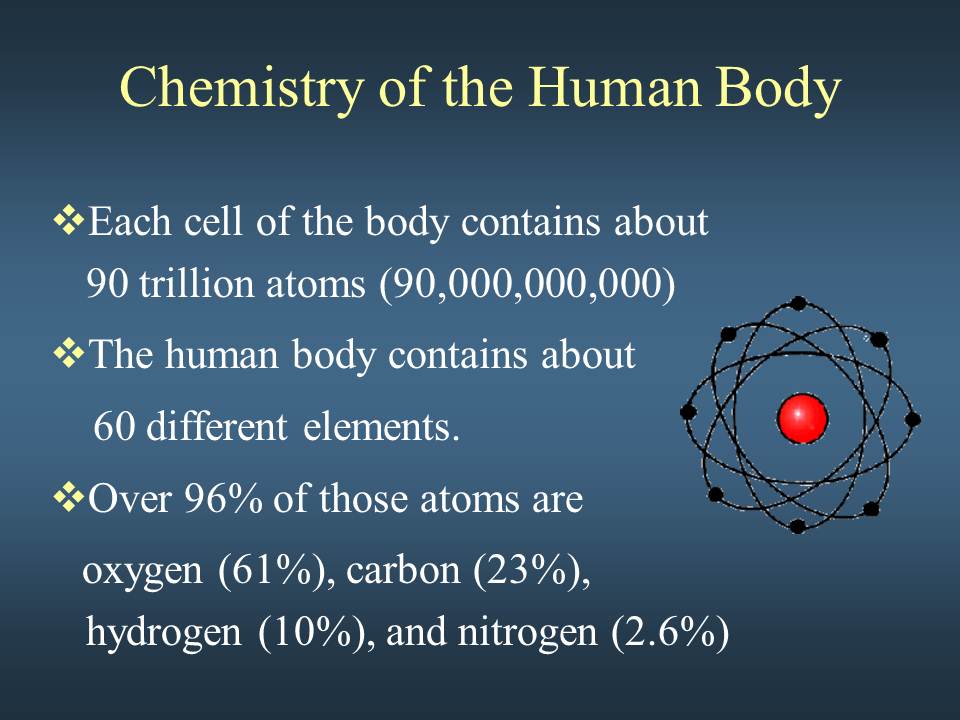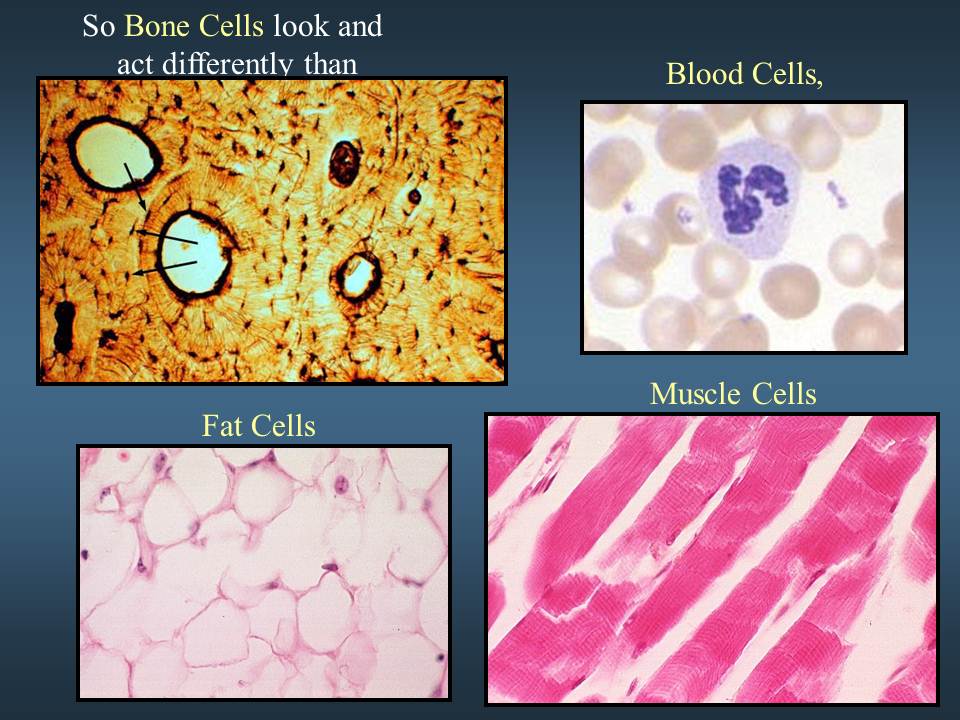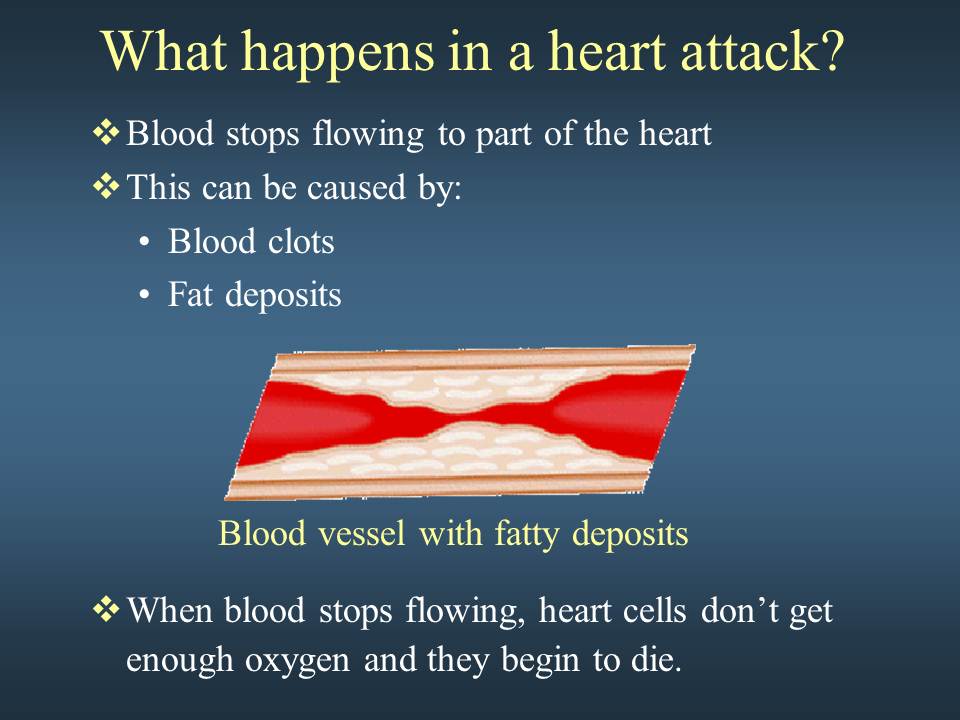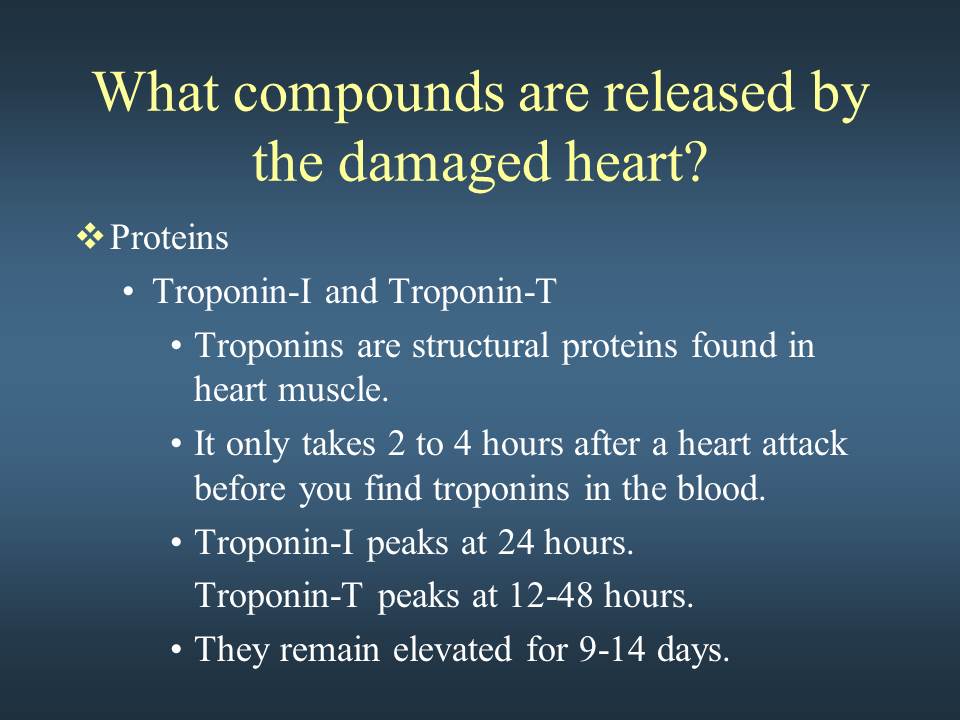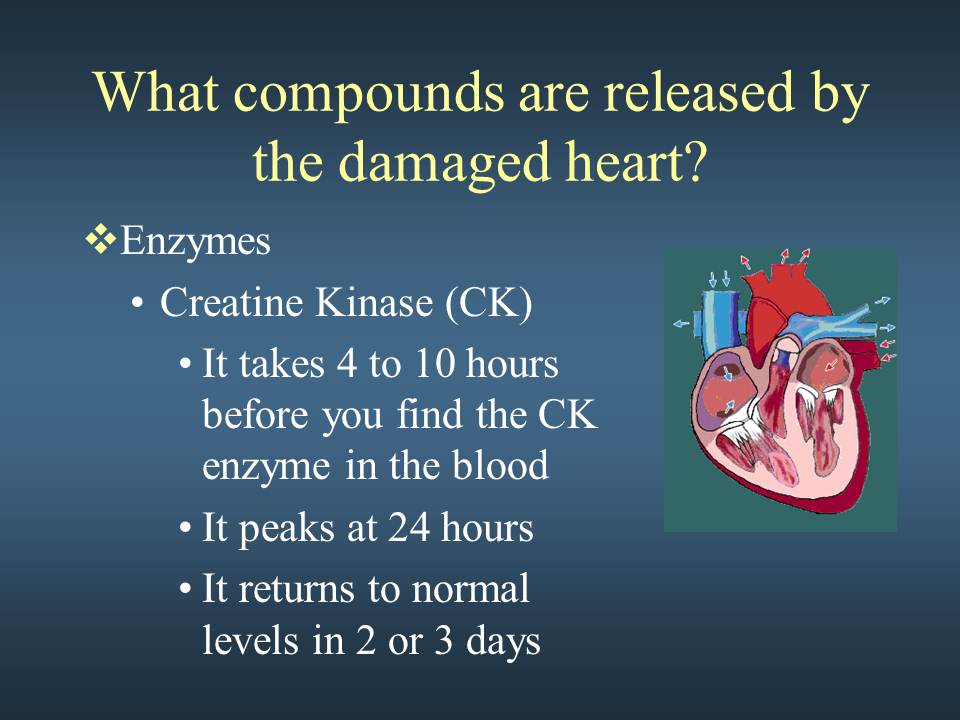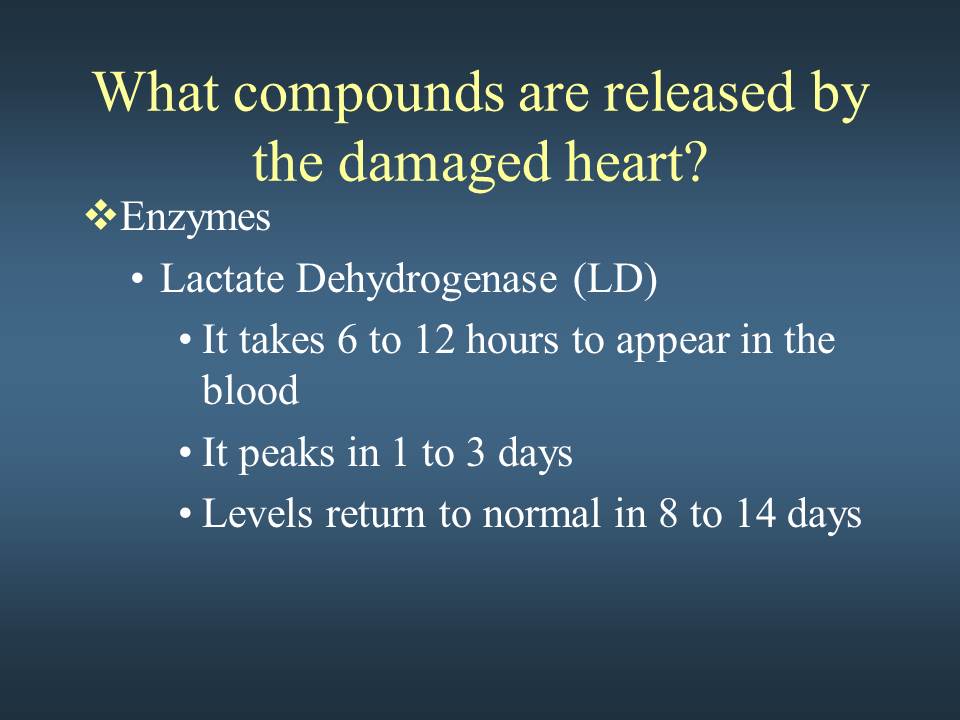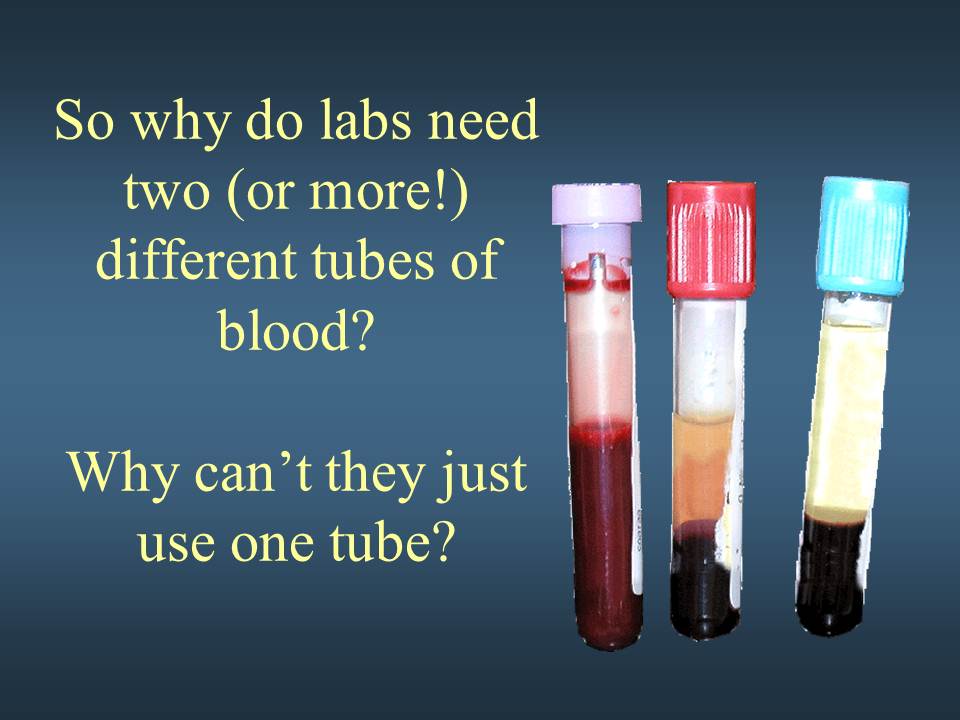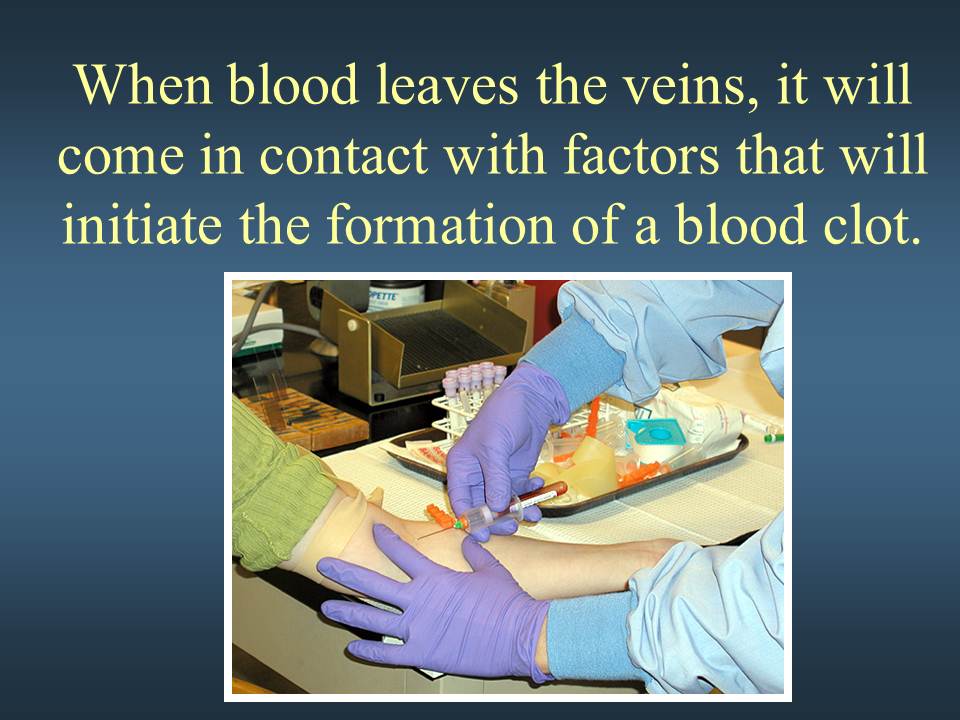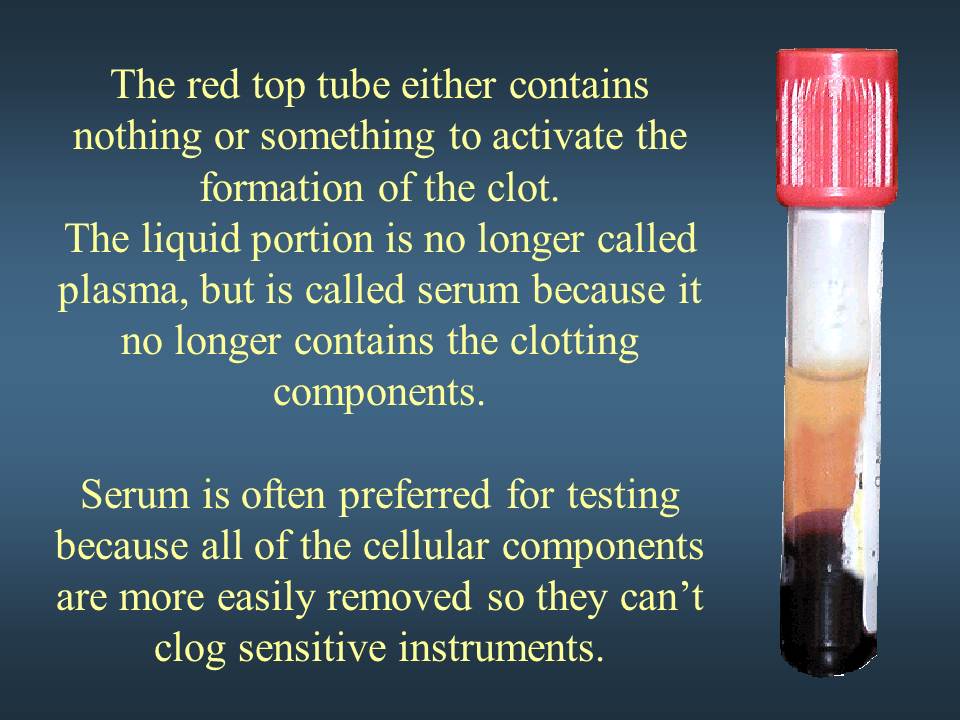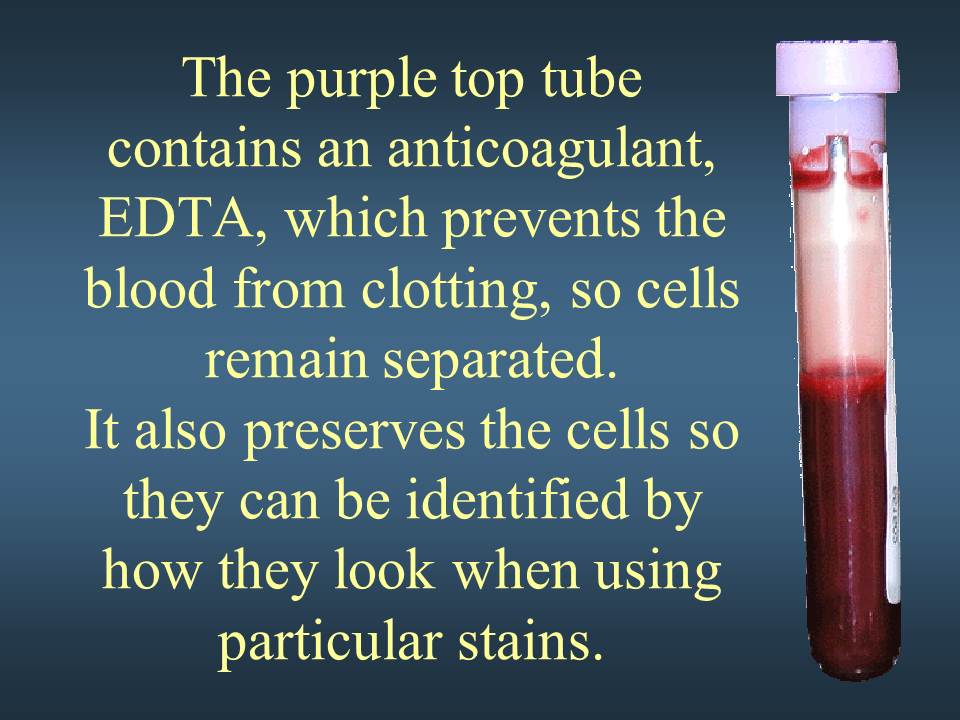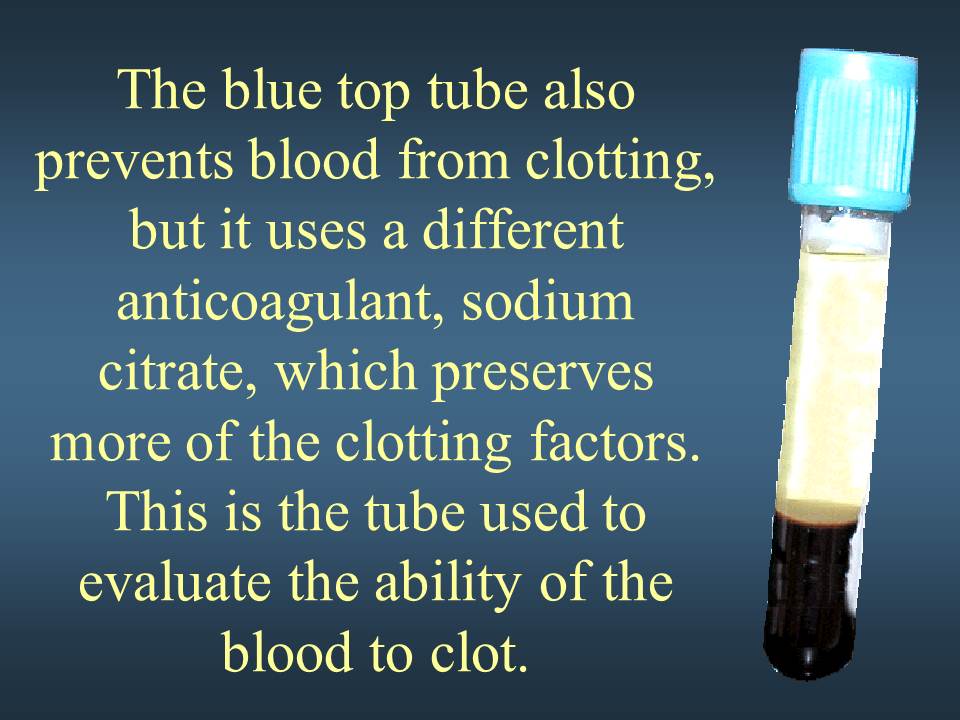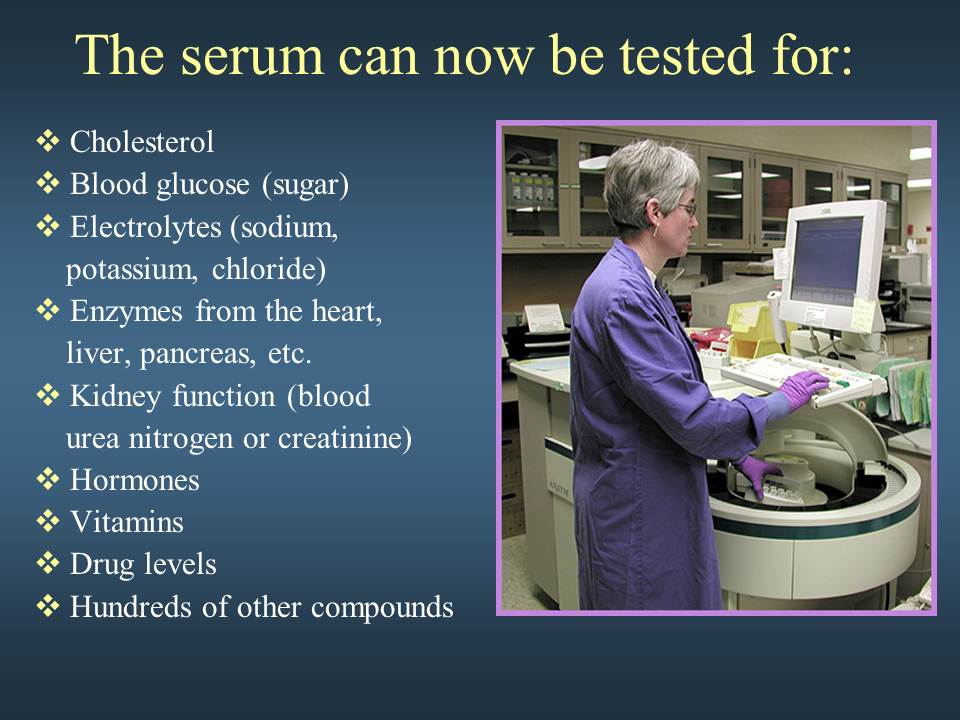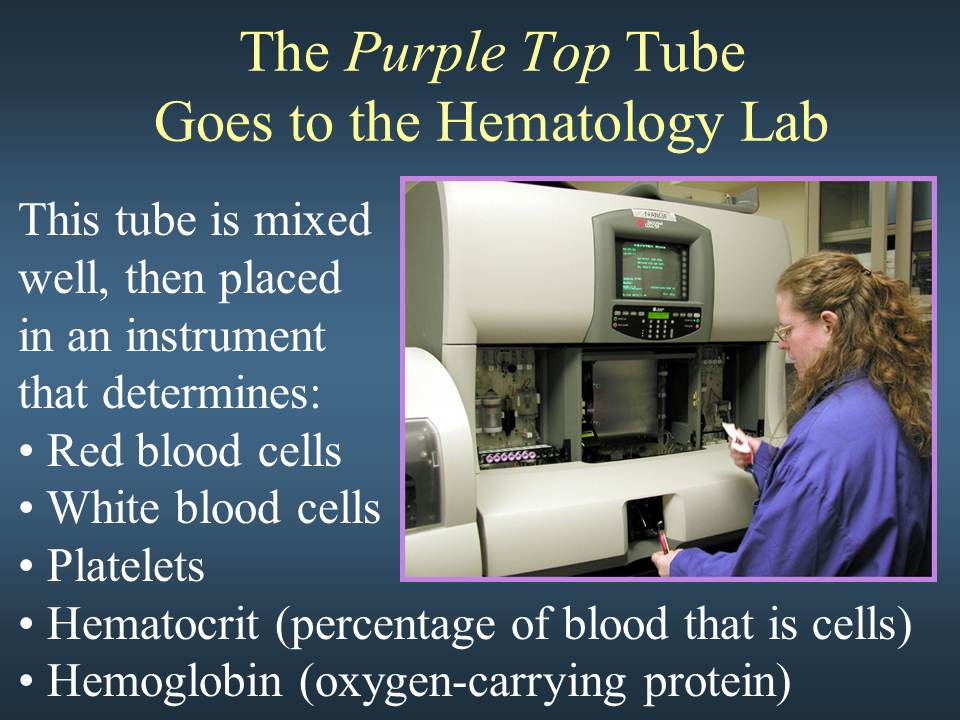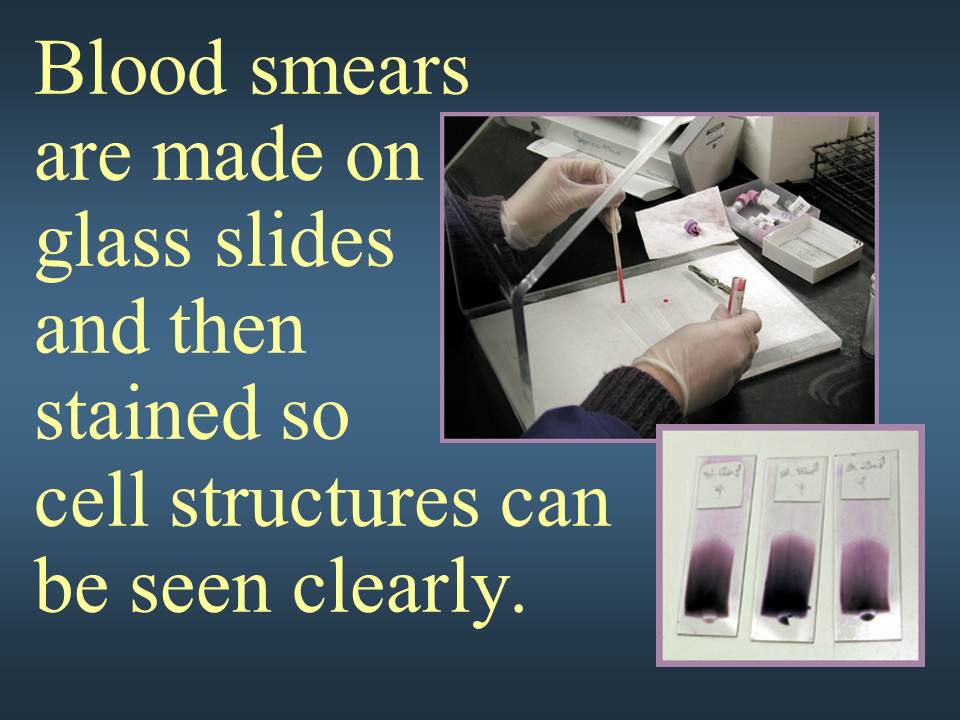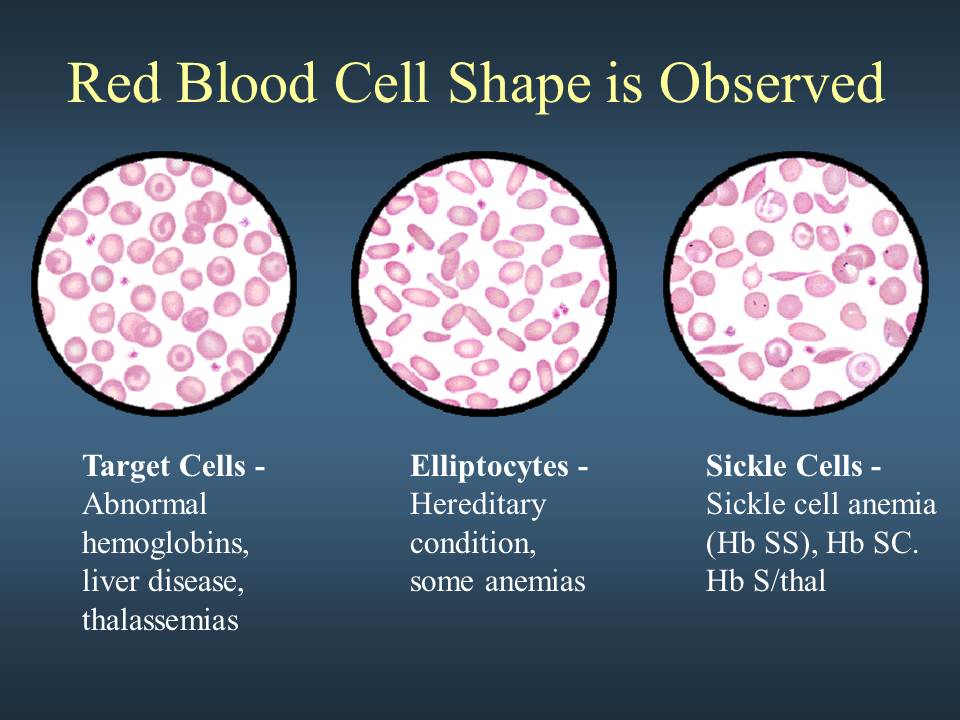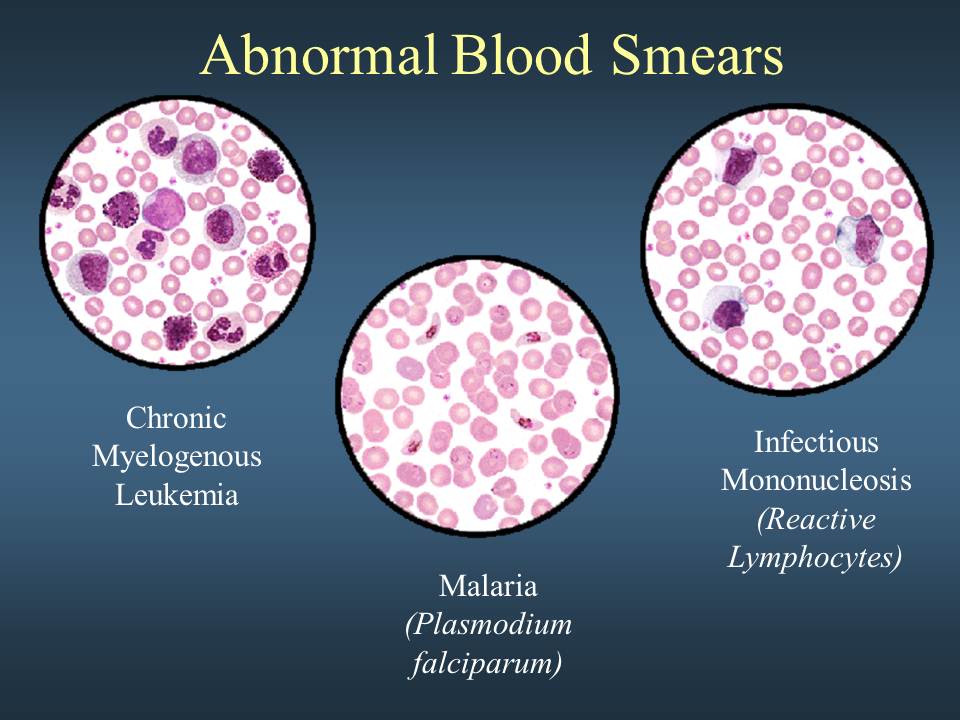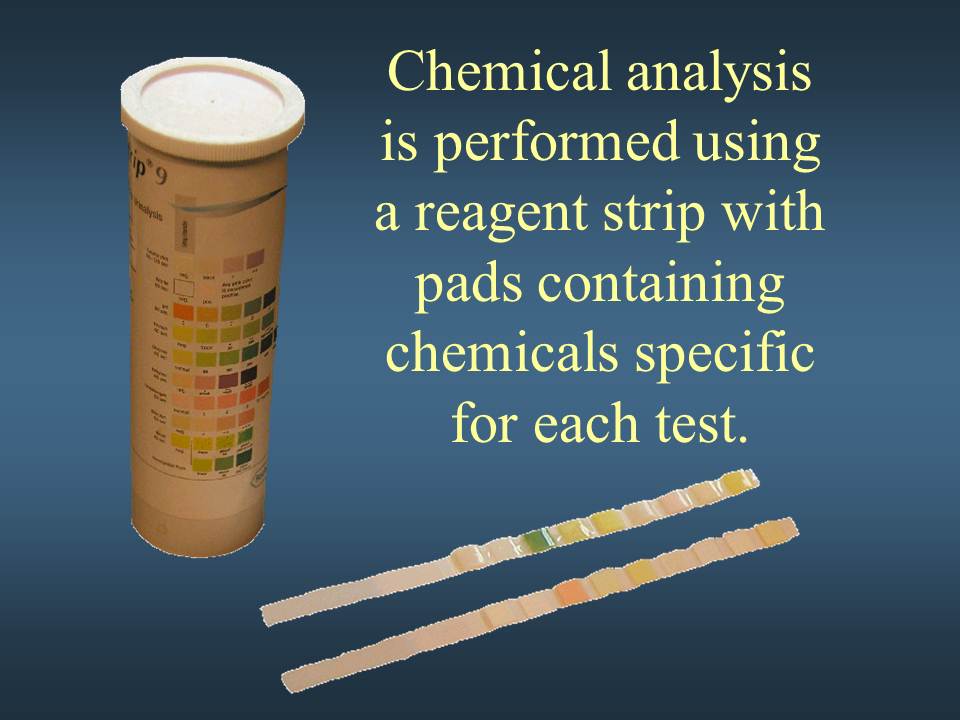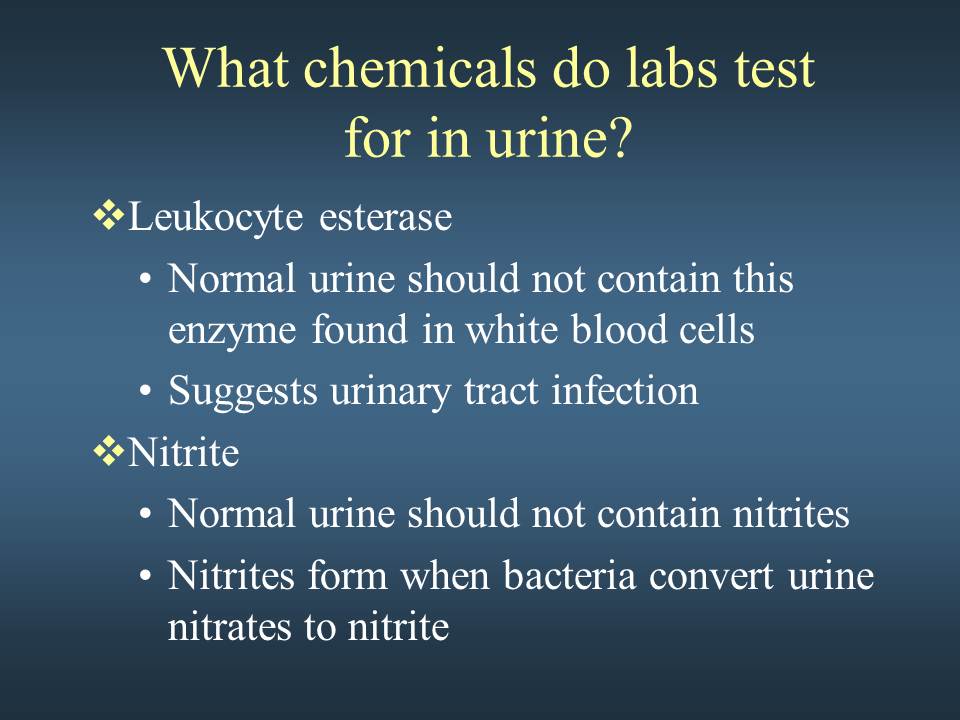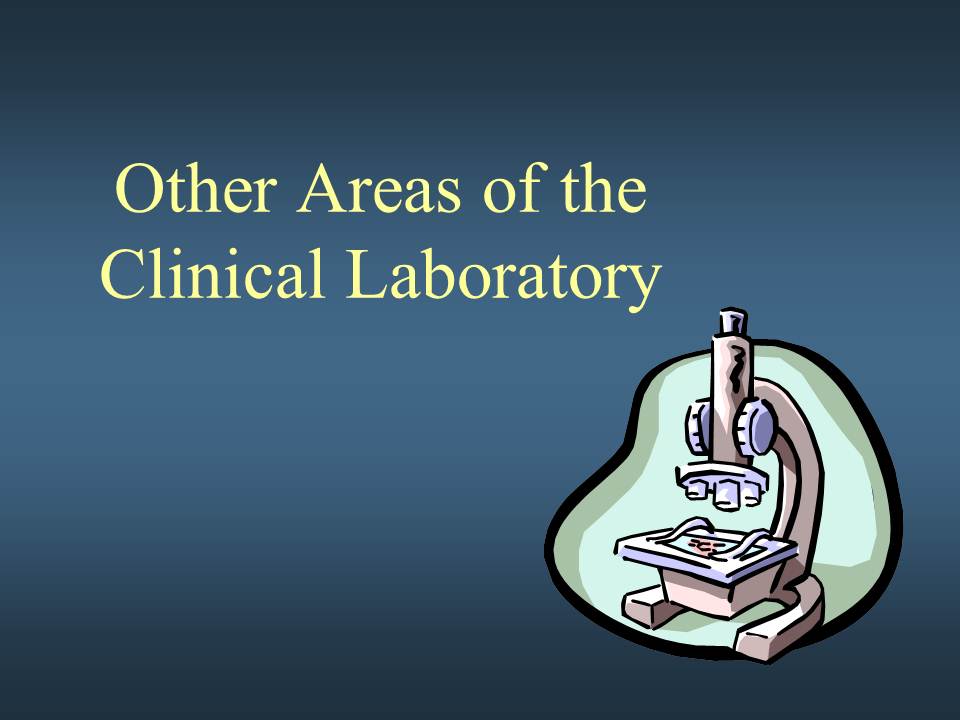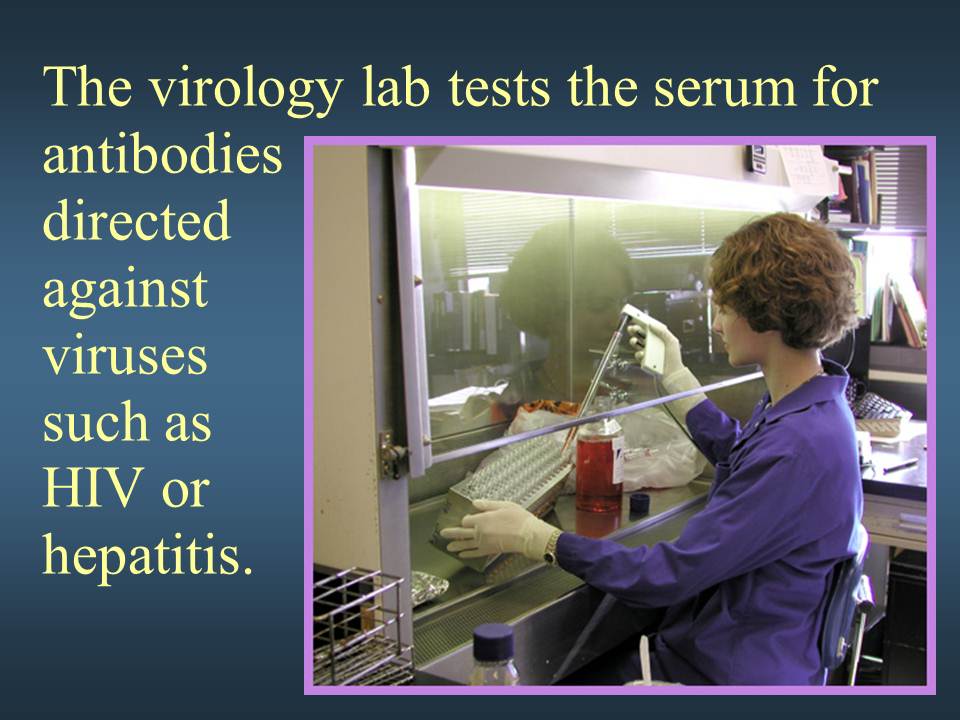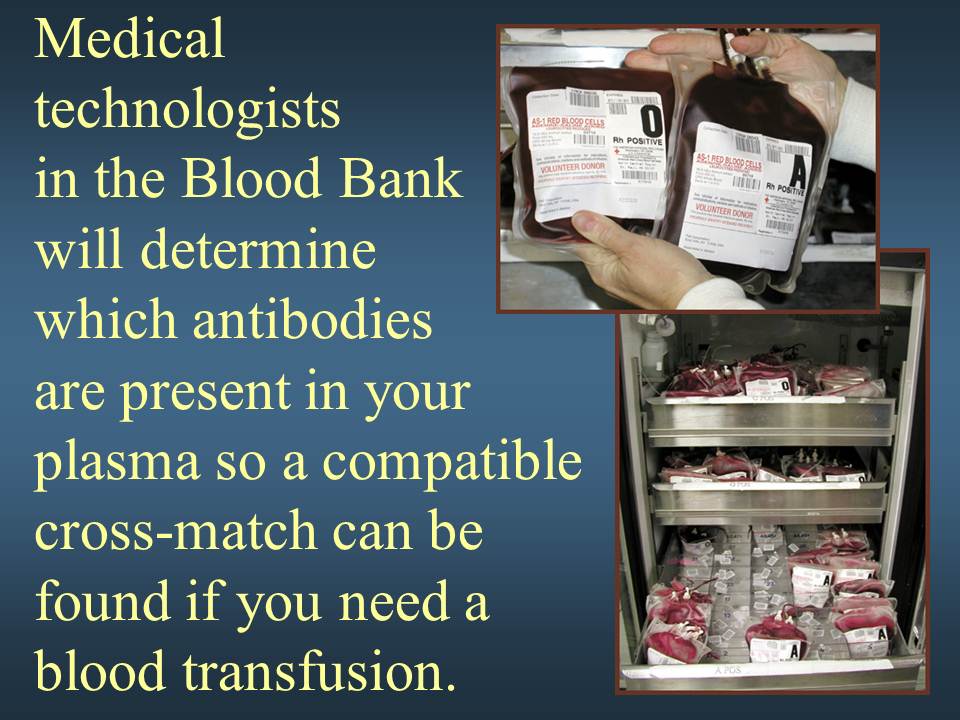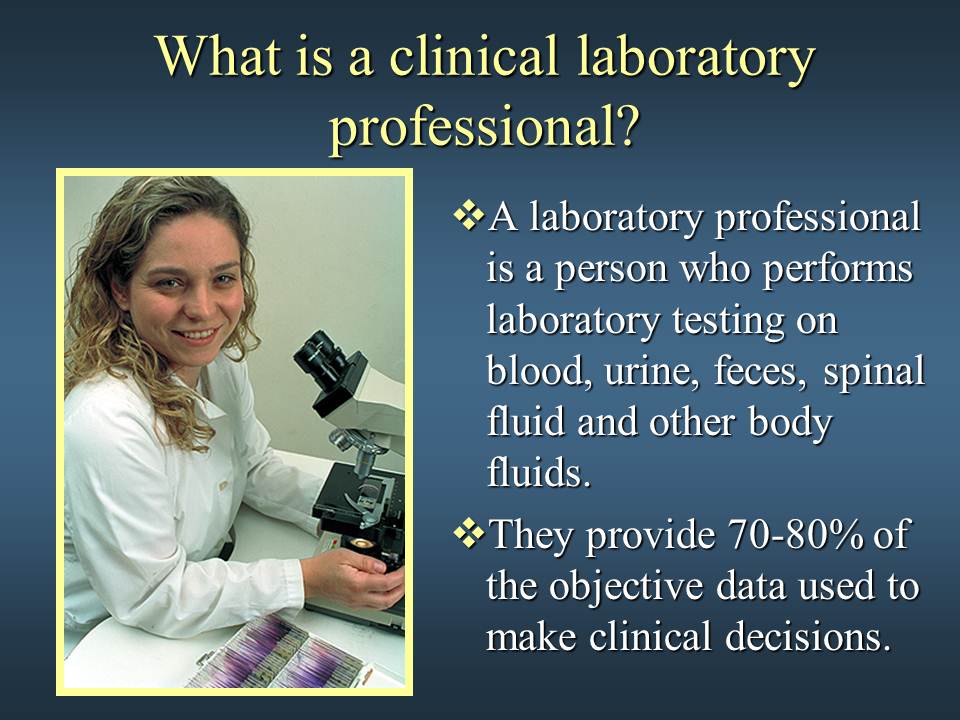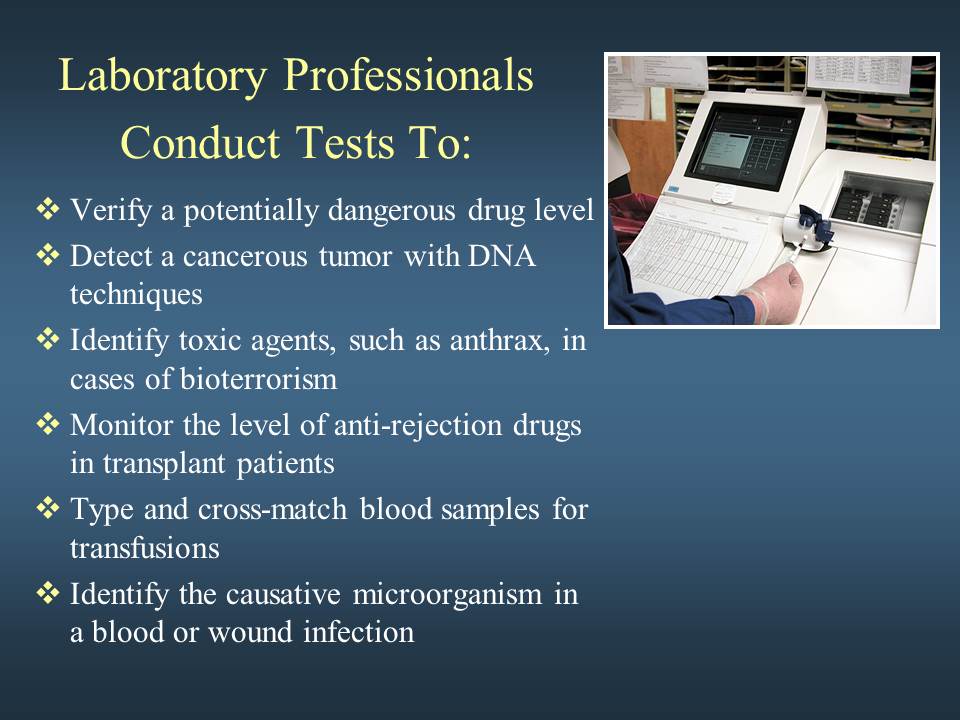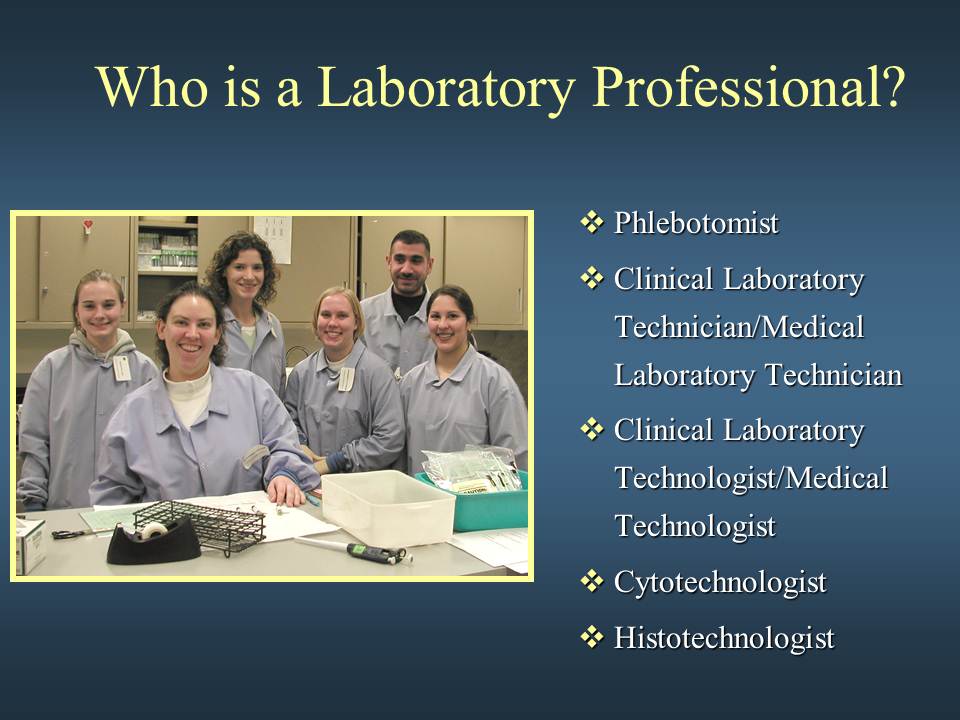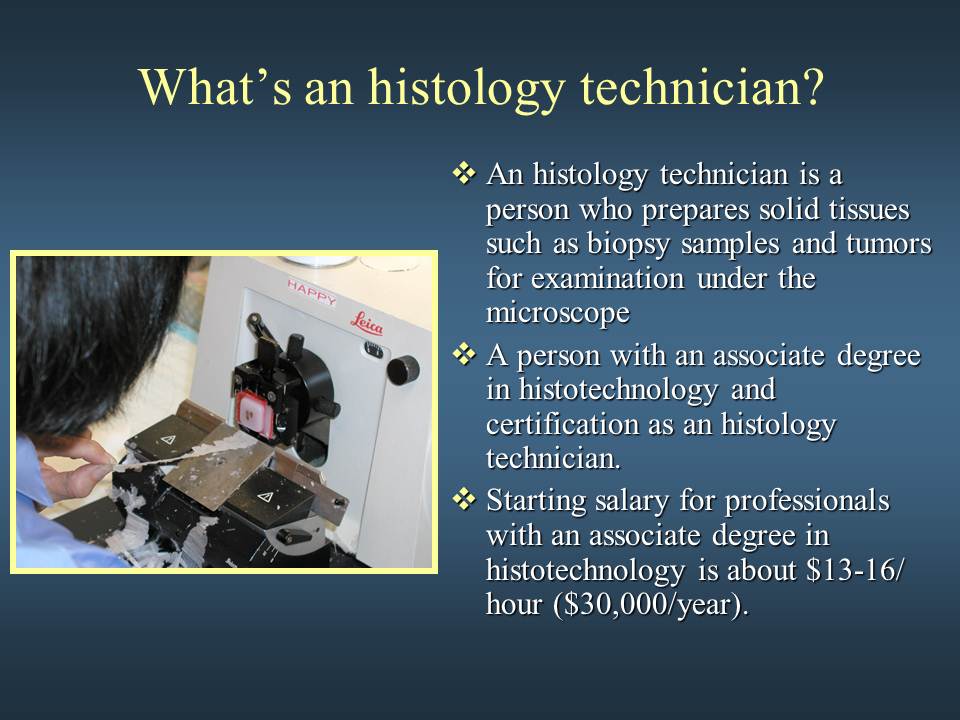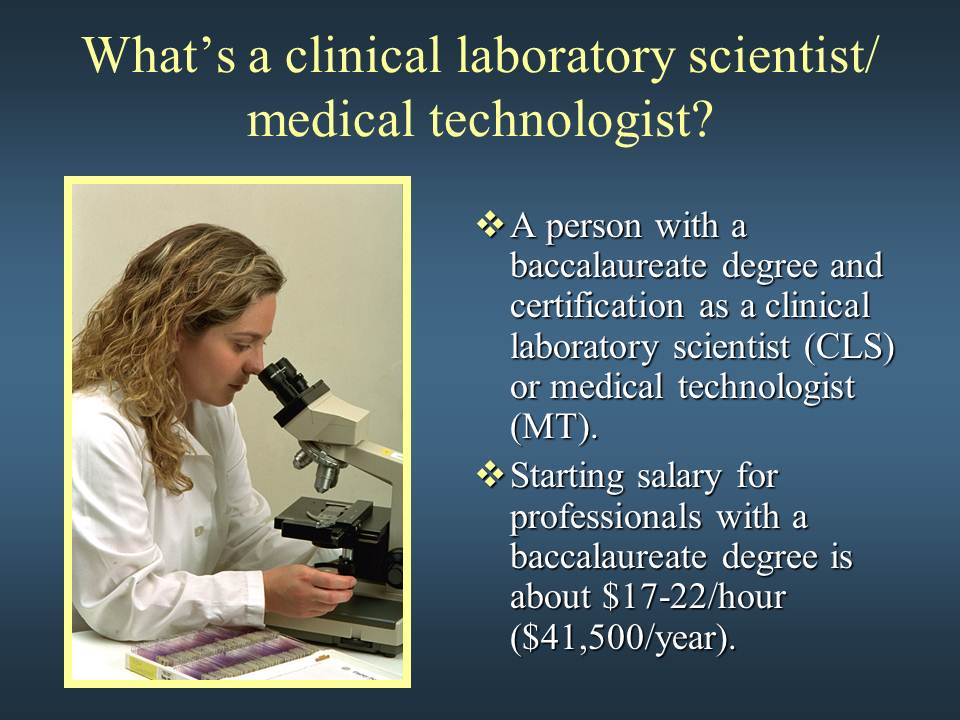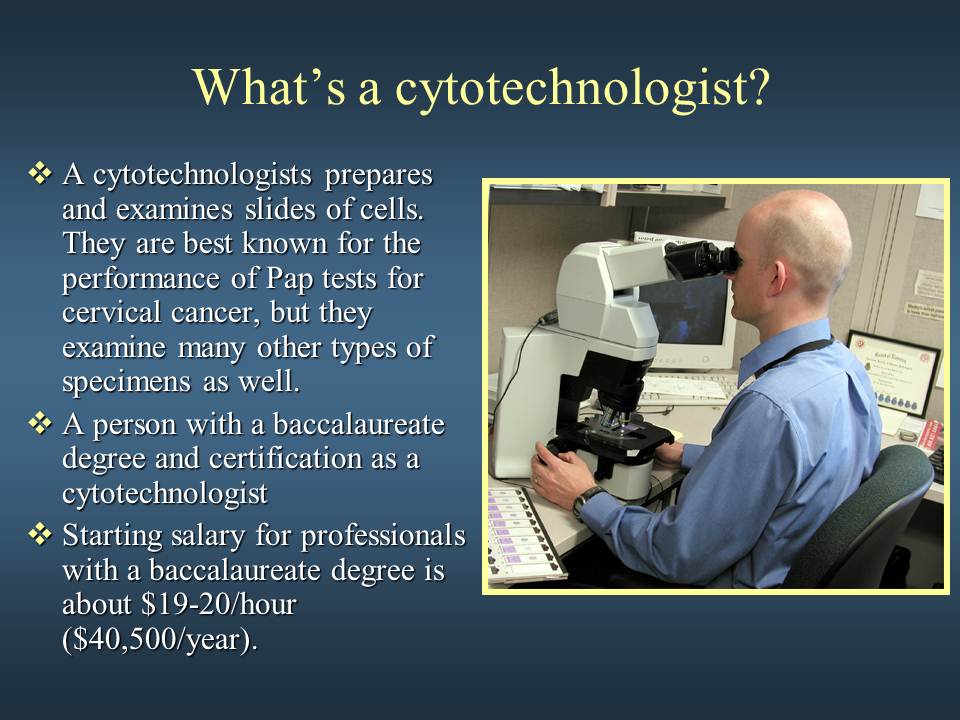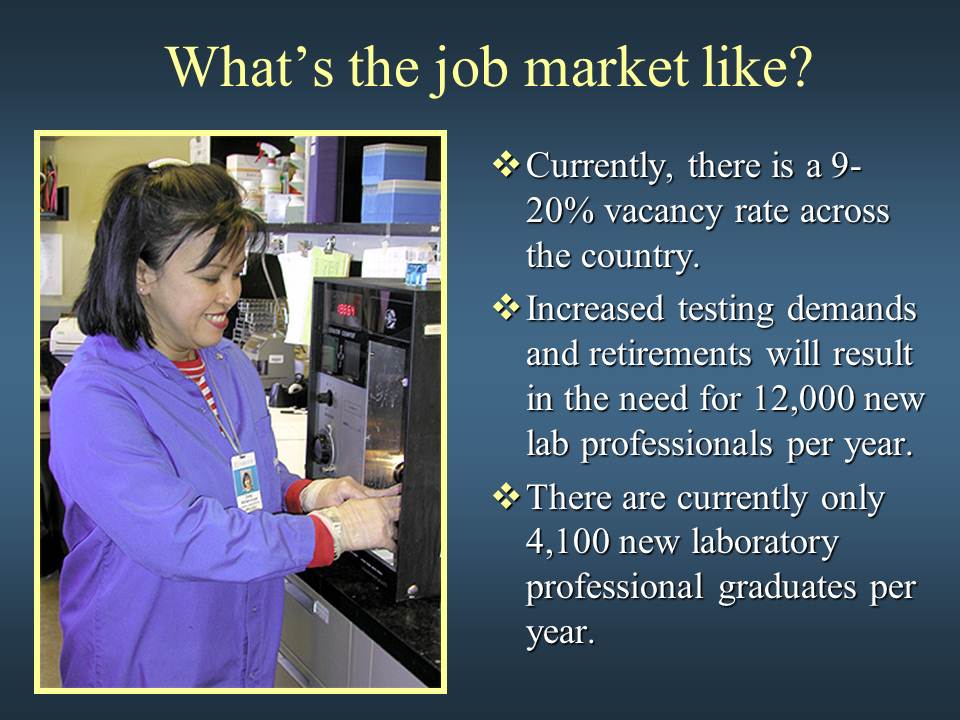 Instructions for Collecting a Clean Catch Urine Sample
1. Wash hands with soap and warm water.
2. Spread the labia (folds of skin) apart with one hand and wipe with the towelette provided.
Wipe from front to back.
3. Continue holding the labia apart. As you start to urinate, allow a small amount of urine
to fall into the toilet bowl. (This clears the urethra of contaminants) Do not touch the
inside of the cup.
4. After the urine stream is well established, urinate into the cup. Once an adequate amount
of urine fills the cup (the cup only needs to be half-full), remove the cup from the urine
stream.
5. Pass the remaining urine into the toilet.
6. Screw the lid on the cup tightly (do not touch the inside of the cup or lid). Give the
cup to the Customer Service Tech.
INSTRUCTIONS FOR MALES
1. Wash hands with soap and warm water.
2. If uncircumcised, retract foreskin.
3. Wipe the end of penis with towelette provided. As you start to urinate, allow a small
amount of urine to fall into the toilet bowl. (This clears the urethra of contaminants)
Do not touch the inside of the cup.
4. After the urine stream is well established, urinate into the cup. Once an adequate amount
of urine fills the cup (the cup only needs to be half-full), remove the cup from the urine
stream.
5. Pass the remaining urine into the toilet.
6. Screw the lid on the cup tightly (do not touch the inside of the cup or lid). Give the
cup to the Customer Service Tec
10 Panel drug screen Urinalysis test
DRUGS OF DETECTION
Cocaine (COC)
Marijuana (THC)
Opiates (OPI, including heroin)
Amphetamines (AMP)
Methamphetamines (mAMP)
Oxycodone (OXY)
Propoxyphene (PPX)
Benzodiazepines (BZO)
Barbiturates (BAR)
Ecstasy (MDMA)
Plasma
The liquid component of blood is called plasma, a mixture of water, sugar, fat, protein, and salts. The main job of the plasma is to transport blood cells throughout your body along with nutrients, waste products, antibodies, clotting proteins, chemical messengers such as hormones, and proteins that help maintain the body's fluid balance.
Red Blood Cells (also called erythrocytes or RBCs)
Known for their bright red color, red cells are the most abundant cell in the blood, accounting for about 40-45 percent of its volume. The shape of a red blood cell is a biconcave disk with a flattened center – in other words, both faces of the disc have shallow bowl-like indentations (a red blood cell looks like a donut).
Production of red blood cells is controlled by erythropoietin, a hormone produced primarily by the kidneys. Red blood cells start as immature cells in the bone marrow and after approximately seven days of maturation are released into the bloodstream. Unlike many other cells, red blood cells have no nucleus and can easily change shape, helping them fit through the various blood vessels in your body. However, while the lack of a nucleus makes a red blood cell more flexible, it also limits the life of the cell as it travels through the smallest blood vessels, damaging the cell's membranes and depleting its energy supplies. The red blood cell survives on average only 120 days.
Red cells contain a special protein called hemoglobin, which helps carry oxygen from the lungs to the rest of the body and then returns carbon dioxide from the body to the lungs so it can be exhaled. Blood appears red because of the large number of red blood cells, which get their color from the hemoglobin. The percentage of whole blood volume that is made up of red blood cells is called the hematocrit and is a common measure of red blood cell levels.
White Blood Cells (also called leukocytes)
White blood cells protect the body from infection. They are much fewer in number than red blood cells, accounting for about 1 percent of your blood.
The most common type of white blood cell is the neutrophil, which is the "immediate response" cell and accounts for 55 to 70 percent of the total white blood cell count. Each neutrophil lives less than a day, so your bone marrow must constantly make new neutrophils to maintain protection against infection. Transfusion of neutrophils is generally not effective since they do not remain in the body for very long.
The other major type of white blood cell is a lymphocyte. There are two main populations of these cells. T lymphocytes help regulate the function of other immune cells and directly attack various infected cells and tumors. B lymphocytes make antibodies, which are proteins that specifically target bacteria, viruses, and other foreign materials.
Platelets (also called thrombocytes)
Unlike red and white blood cells, platelets are not actually cells but rather small fragments of cells. Platelets help the blood clotting process (or coagulation) by gathering at the site of an injury, sticking to the lining of the injured blood vessel, and forming a platform on which blood coagulation can occur. This results in the formation of a fibrin clot, which covers the wound and prevents blood from leaking out. Fibrin also forms the initial scaffolding upon which new tissue forms, thus promoting healing.
A higher than normal number of platelets can cause unnecessary clotting, which can lead to strokes and heart attacks; however, thanks to advances made in antiplatelet therapies, there are treatments available to help prevent these potentially fatal events. Conversely, lower than normal counts can lead to extensive bleeding.
Complete Blood Count (CBC)
A complete blood count (CBC) test gives your doctor important information about the types and numbers of cells in your blood, especially the red blood cells and their percentage (hematocrit) or protein content (hemoglobin), white blood cells, and platelets. The results of a CBC may diagnose conditions like anemia, infection, and other disorders. The platelet count and plasma clotting tests (prothombin time, partial thromboplastin time, and thrombin time) may be used to evaluate bleeding and clotting disorders.
Your doctor may also perform a blood smear, which is a way of looking at your blood cells under the microscope. In a normal blood smear, red blood cells will appear as regular, round cells with a pale center. Variations in the size or shape of these cells may suggest a blood disorder.
Normal blood smear. The four larger cells shown are called granulocytes, a type of white blood cell.
Abnormal blood smear with variation in the size and color of the red blood cells.
Where Do Blood Cells Come From?
Blood cells develop from hematopoietic stem cells and are formed in the bone marrow through the highly regulated process of hematopoiesis. Hematopoietic stem cells are capable of transforming into red blood cells, white blood cells, and platelets. These stem cells can be found circulating in the blood and bone marrow in people of all ages, as well as in the umbilical cords of newborn babies. Stem cells from all three sources may be used to treat a variety of diseases, including leukemia, lymphoma, bone marrow failure, and various immune disorders.
Hypochromic anemia is a generic term for any type of anemia in which the red blood cells (erythrocytes) are paler than normal. (Hypo- refers to less, and chromic means color.) A normal red blood cell will have an area of pallor in the center of it; in hypochromic cells, this area of central pallor is increased. This decrease in redness is due to a disproportionate reduction of red cell hemoglobin (the pigment that imparts the red color) in proportion to the volume of the cell. In many cases, the red blood cells will also be small (microcytic), leading to substantial overlap with the category of microcytic anemia. The most common causes of this kind of anemia are iron deficiency and thalassemia.
Hypochromic anemia was historically known as chlorosis or green sickness for the distinct skin tinge sometimes present in patients, in addition to more general symptoms such as a lack of energy, shortness of breath, dyspepsia, headaches, a capricious or scanty appetite and amenorrhea.
Urinalysis can reveal diseases that have gone unnoticed because they do not produce striking signs or symptoms. Examples include diabetes mellitus, various forms of glomerulonephritis, and chronic urinary tract infections.
The most cost-effective device used to screen urine is a paper or plastic dipstick. This microchemistry system has been available for many years and allows qualitative and semi-quantitative analysis within one minute by simple but careful observation. The color change occurring on each segment of the strip is compared to a color chart to obtain results. However, a careless doctor, nurse, or assistant is entirely capable of misreading or misinterpreting the results. Microscopic urinalysis requires only a relatively inexpensive light microscope.
MACROSCOPIC URINALYSIS
The first part of a urinalysis is direct visual observation. Normal, fresh urine is pale to dark yellow or amber in color and clear. Normal urine volume is 750 to 2000 ml/24hr.
Turbidity or cloudiness may be caused by excessive cellular material or protein in the urine or may develop from crystallization or precipitation of salts upon standing at room temperature or in the refrigerator. Clearing of the specimen after addition of a small amount of acid indicates that precipitation of salts is the probable cause of tubidity.
A red or red-brown (abnormal) color could be from a food dye, eating fresh beets, a drug, or the presence of either hemoglobin or myoglobin. If the sample contained many red blood cells, it would be cloudy as well as red.
Examples of appearances of urine
URINE DIPSTICK CHEMICAL ANALYSIS
pH
The glomerular filtrate of blood plasma is usually acidified by renal tubules and collecting ducts from a pH of 7.4 to about 6 in the final urine. However, depending on the acid-base status, urinary pH may range from as low as 4.5 to as high as 8.0. The change to the acid side of 7.4 is accomplished in the distal convoluted tubule and the collecting duct.
Specific Gravity (sp gr)
Specific gravity (which is directly proportional to urine osmolality which measures solute concentration) measures urine density, or the ability of the kidney to concentrate or dilute the urine over that of plasma. Dipsticks are available that also measure specific gravity in approximations. Most laboratories measure specific gravity with a refractometer.
Specific gravity between 1.002 and 1.035 on a random sample should be considered normal if kidney function is normal. Since the sp gr of the glomerular filtrate in Bowman's space ranges from 1.007 to 1.010, any measurement below this range indicates hydration and any measurement above it indicates relative dehydration.
If sp gr is not > 1.022 after a 12 hour period without food or water, renal concentrating ability is impaired and the patient either has generalized renal impairment or nephrogenic diabetes insipidus. In end-stage renal disease, sp gr tends to become 1.007 to 1.010.
Any urine having a specific gravity over 1.035 is either contaminated, contains very high levels of glucose, or the patient may have recently received high density radiopaque dyes intravenously for radiographic studies or low molecular weight dextran solutions. Subtract 0.004 for every 1% glucose to determine non-glucose solute concentration.
Protein
Dipstick screening for protein is done on whole urine, but semi-quantitative tests for urine protein should be performed on the supernatant of centrifuged urine since the cells suspended in normal urine can produce a falsely high estimation of protein. Normally, only small plasma proteins filtered at the glomerulus are reabsorbed by the renal tubule. However, a small amount of filtered plasma proteins and protein secreted by the nephron (Tamm-Horsfall protein) can be found in normal urine. Normal total protein excretion does not usually exceed 150 mg/24 hours or 10 mg/100 ml in any single specimen. More than 150 mg/day is defined as proteinuria. Proteinuria > 3.5 gm/24 hours is severe and known as nephrotic syndrome.
Dipsticks detect protein by production of color with an indicator dye, Bromphenol blue, which is most sensitive to albumin but detects globulins and Bence-Jones protein poorly. Precipitation by heat is a better semiquantitative method, but overall, it is not a highly sensitive test. The sulfosalicylic acid test is a more sensitive precipitation test. It can detect albumin, globulins, and Bence-Jones protein at low concentrations.
In rough terms, trace positive results (which represent a slightly hazy appearance in urine) are equivalent to 10 mg/100 ml or about 150 mg/24 hours (the upper limit of normal). 1+ corresponds to about 200-500 mg/24 hours, a 2+ to 0.5-1.5 gm/24 hours, a 3+ to 2-5 gm/24 hours, and a 4+ represents 7 gm/24 hours or greater.
Glucose
Less than 0.1% of glucose normally filtered by the glomerulus appears in urine (< 130 mg/24 hr). Glycosuria (excess sugar in urine) generally means diabetes mellitus. Dipsticks employing the glucose oxidase reaction for screening are specific for glucos glucose but can miss other reducing sugars such as galactose and fructose. For this reason, most newborn and infant urines are routinely screened for reducing sugars by methods other than glucose oxidase (such as the Clinitest, a modified Benedict's copper reduction test).
Ketones
Ketones (acetone, aceotacetic acid, beta-hydroxybutyric acid) resulting from either diabetic ketosis or some other form of calorie deprivation (starvation), are easily detected using either dipsticks or test tablets containing sodium nitroprusside.
Nitrite
A positive nitrite test indicates that bacteria may be present in significant numbers in urine. Gram negative rods such as E. coli are more likely to give a positive test.
Leukocyte Esterase
A positive leukocyte esterase test results from the presence of white blood cells either as whole cells or as lysed cells. Pyuria can be detected even if the urine sample contains damaged or lysed WBC's. A negative leukocyte esterase test means that an infection is unlikely and that, without additional evidence of urinary tract infection, microscopic exam and/or urine culture need not be done to rule out significant bacteriuria.
MICROSCOPIC URINALYSIS
Methodology
A sample of well-mixed urine (usually 10-15 ml) is centrifuged in a test tube at relatively low speed (about 2-3,000 rpm) for 5-10 minutes until a moderately cohesive button is produced at the bottom of the tube. The supernate is decanted and a volume of 0.2 to 0.5 ml is left inside the tube. The sediment is resuspended in the remaining supernate by flicking the bottom of the tube several times. A drop of resuspended sediment is poured onto a glass slide and coverslipped.
Examination
The sediment is first examined under low power to identify most crystals, casts, squamous cells, and other large objects. The numbers of casts seen are usually reported as number of each type found per low power field (LPF). Example: 5-10 hyaline casts/L casts/LPF. Since the number of elements found in each field may vary considerably from one field to another, several fields are averaged. Next, examination is carried out at high power to identify crystals, cells, and bacteria. The various types of cells are usually described as the number of each type found per average high power field (HPF). Example: 1-5 WBC/HPF.
Red Blood Cells
Hematuria is the presence of abnormal numbers of red cells in urine due to: glomerular damage, tumors which erode the urinary tract anywhere along its length, kidney trauma, urinary tract stones, renal infarcts, acute tubular necrosis, upper and lower uri urinary tract infections, nephrotoxins, and physical stress. Red cells may also contaminate the urine from the vagina in menstruating women or from trauma produced by bladder catherization. Theoretically, no red cells should be found, but some find their way into the urine even in very healthy individuals. However, if one or more red cells can be found in every high power field, and if contamination can be ruled out, the specimen is probably abnormal.
RBC's may appear normally shaped, swollen by dilute urine (in fact, only cell ghosts and free hemoglobin may remain), or crenated by concentrated urine. Both swollen, partly hemolyzed RBC's and crenated RBC's are sometimes difficult to distinguish from WBC's in the urine. In addition, red cell ghosts may simulate yeast. The presence of dysmorphic RBC's in urine suggests a glomerular disease such as a glomerulonephritis. Dysmorphic RBC's have odd shapes as a consequence of being distorted via passage through the abnormal glomerular structure.
Red blood cells in urine
Dysmorphic red blood cells in urine
White Blood Cells
Pyuria refers to the presence of abnormal numbers of leukocytes that may appear with infection in either the upper or lower urinary tract or with acute glomerulonephritis. Usually, the WBC's are granulocytes. White cells from the vagina, especially in the presence of vaginal and cervical infections, or the external urethral meatus in men and women may contaminate the urine.
If two or more leukocytes per each high power field appear in non-contaminated urine, the specimen is probably abnormal. Leukocytes have lobed nuclei and granular cytoplasm.
White blood cells in urine
Epithelial Cells
Renal tubular epithelial cells, usually larger than granulocytes, contain a large round or oval nucleus and normally slough into the urine in small numbers. However, with nephrotic syndrome and in conditions leading to tubular degeneration, the number sloughed is increased.
When lipiduria occurs, these cells contain endogenous fats. When filled with numerous fat droplets, such cells are called oval fat bodies. Oval fat bodies exhibit a "Maltese cross" configuration by polarized light microscopy.
Oval fat bodies in urine
Oval fat bodies in urine, with polarized light
Transitional epithelial cells from the renal pelvis, ureter, or bladder have more regular cell borders, larger nuclei, and smaller overall size than squamous epithelium. Renal tubular epithelial cells are smaller and rounder than transitional epithelium, and their nucleus occupies more of the total cell volume.
Squamous epithelial cells from the skin surface or from the outer urethra can appear in urine.
Their significance is that they represent possible contamination of the specimen with skin flora.
Squamous epithelial cells in urine
Casts
Urinary casts are formed only in the distal convoluted tubule (DCT) or the collecting duct (distal nephron). The proximal convoluted tubule (PCT) and loop of Henle are not locations for cast formation. Hyaline casts are composed primarily of a mucoprotein (Tamm-Horsfall protein) secreted by tubule cells. The Tamm-Horsfall protein secretion (green dots) is illustrated in the diagram below, forming a hyaline cast in the collecting duct:
Even with glomerular injury causing increased glomerular permeability to plasma proteins with resulting proteinuria, most matrix or "glue" that cements urinary casts together is Tamm-Horsfall mucoprotein, although albumin and some globulins are also incorporated. An example of glomerular inflammation with leakage of RBC's to produce a red blood cell cast is shown in the diagram below:
The factors which favor protein cast formation are low flow rate, high salt concentration, and low pH, all of which favor protein denaturation and precipitation, particularly that of the Tamm-Horsfall protein. Protein casts with long, thin tails formed at the junction of Henle's loop and the distal convoluted tubule are called cylindroids. Hyaline casts can be seen even in healthy patients.
Red blood cells may stick together and form red blood cell casts. Such casts are indicative of glomerulonephritis, with leakage of RBC's from glomeruli, or severe tubular damage.
White blood cell casts are most typical for acute pyelonephritis, but they may also be present with glomerulonephritis. Their presence indicates inflammation of the kidney, because such casts will not form except in the kidney.
When cellular casts remain in the nephron for some time before they are flushed into the bladder urine, the cells may degenerate to become a coarsely granular cast, later a finely granular cast, and ultimately, a waxy cast. Granular and waxy casts are be believed to derive from renal tubular cell casts. Broad casts are believed to emanate from damaged and dilated tubules and are therefore seen in end-stage chronic renal disease.
The so-called telescoped urinary sediment is one in which red cells, white cells, oval fat bodies, and all types of casts are found in more or less equal profusion. The conditions which may lead to a telescoped sediment are: 1) lupus nephritis 2) malignant hypertension 3) diabetic glomerulosclerosis, and 4) rapidly progressive glomerulonephritis.
In end-stage kidney disease of any cause, the urinary sediment often becomes very scant because few remaining nephrons produce dilute urine.
Hyaline casts in urine
Red blood cell casts forming in tubules
Red blood cell cast in urine
White blood cell cast in urine
Renal tubular cell cast in urine
Granular casts in urine
Granular cast in urine
Waxy cast in urine
Bile stained hyaline casts in renal tubules
Bacteria
Bacteria are common in urine specimens because of the abundant normal microbial flora of the vagina or external urethral meatus and because of their ability to rapidly multiply in urine standing at room temperature. Therefore, microbial organisms found in all but the most scrupulously collected urines should be interpreted in view of clinical symptoms.
Diagnosis of bacteriuria in a case of suspected urinary tract infection requires culture. A colony count may also be done to see if significant numbers of bacteria are present. Generally, more than 100,000/ml of one organism reflects significant bacteriuria. Multiple organisms reflect contamination. However, the presence of any organism in catheterized or suprapubic tap specimens should be considered significant.
Yeast
Yeast cells may be contaminants or represent a true yeast infection. They are often difficult to distinguish from red cells and amorphous crystals but are distinguished by their tendency to bud. Most often they are Candida, which may colonize bladder, urethra, or vagina.
Crystals
Common crystals seen even in healthy patients include calcium oxalate, triple phosphate crystals and amorphous phosphates.
Very uncommon crystals include: cystine crystals in urine of neonates with congenital cystinuria or severe liver disease, tyrosine crystals with congenital tyrosinosis or marked liver impairment, or leucine crystals in patients with severe liver disease or with maple syrup urine disease.
Oxalate crystals in urine
Triple phosphate crystals in urine
Cystine crystals in urine
Miscellaneous
General "crud" or unidentifiable objects may find their way into a specimen, particularly those that patients bring from home.
Spermatozoa can sometimes be seen. Rarely, pinworm ova may contaminate the urine. In Egypt, ova from bladder infestations with schistosomiasis may be seen.
METHODS OF URINE COLLECTION
Random collection taken at any time of day with no precautions regarding contamination. The sample may be dilute, isotonic, or hypertonic and may contain white cells, bacteria, and squamous epithelium as contaminants. In females, the specimen may cont contain vaginal contaminants such as trichomonads, yeast, and during menses, red cells.
Early morning collection of the sample before ingestion of any fluid. This is usually hypertonic and reflects the ability of the kidney to concentrate urine during dehydration which occurs overnight. If all fluid ingestion has been avoided since 6 p.m. the previous day, the specific gravity usually exceeds 1.022 in healthy individuals.
Clean-catch, midstream urine specimen collected after cleansing the external urethral meatus. A cotton sponge soaked with benzalkonium hydrochloride is useful and non-irritating for this purpose. A midstream urine is one in which the first half of the bladder urine is discarded and the collection vessel is introduced into the urinary stream to catch the last half. The first half of the stream serves to flush contaminating cells and microbes from the outer urethra prior to collection. This sounds easy, but it isn't (try it yourself before criticizing the patient).
Catherization of the bladder through the urethra for urine collection is carried out only in special circumstances, i.e., in a comatose or confused patient. This procedure risks introducing infection and traumatizing the urethra and bladder, thus producing iatrogenic infection or hematuria.
Suprapubic transabdominal needle aspiration of the bladder. When done under ideal conditions, this provides the purest sampling of bladder urine. This is a good method for infants and small children.
Summary
To summarize, a properly collected clean-catch, midstream urine after cleansing of the urethral meatus is adequate for complete urinalysis. In fact, these specimens generally suffice even for urine culture. A period of dehydration may precede urine collection if testing of renal concentration is desired, but any specific gravity > 1.022 measured in a randomly collected specimen denotes adequate renal concentration so long as there are no abnormal solutes in the urine.
Another important factor is the interval of time which elapses from collection to examination in the laboratory. Changes which occur with time after collection include: 1) decreased clarity due to crystallization of solutes, 2) rising pH, 3) loss of ketone bodies, 4) loss of bilirubin, 5) dissolution of cells and casts, and 6) overgrowth of contaminating microorganisms. Generally, urinalysis may not reflect the findings of absolutely fresh urine if the sample is > 1 hour old. Therefore, get the urine to the laboratory as quickly as possible.
The color of urine can vary from almost colorless to black. Normal urine may show color variation ranging from pale yellow to deep amber. Urine color is typically a result of the degradation of the heme molecule into a urinary pigment called urochrome. Two other pigments contributing to the color of urine are uroerythrin and urobilin. Uroerythrin is usually associatied with amorphous urates in a refrigerated sample causing the sample to exhibit a pink coloration. Urobilin is produced from the oxidation of urobilinogen and results in an orange-brown color to urine that is not fresh. Dietary pigments, drugs, and their metabolites and various other abnormal substances may also contribute to the coloration of the urine sample.
Correlation of Urine Color
Color or Appearance Possible Cause
Colorless Highly dilute, recent fluid consumption
Pale yellow Normal
Yellow Normal
Amber Normal, concentrated urine
Deep yellow Concentrated sample, riboflavin, dehydration
Orange Antibiotic, pyridium, bilirubin, anticoagulant
Pink Porphyrin, myoglobin, hemoglobin, beet pigment, rhubarb
Red Porphyrin, myoglobin, hemoglobin, beet pigment, uroerythrin
Green Oxidized bilirubin (biliverdin), clorets, pseudomonas infections
Blue Diagnex, methylene blue, indicant
Brown Bilirubin, hematin, methemoglobin
Gray Furazolidone, nitrofurantoin
Black Melanin, homogenistic acid
Clinical Laboratory Assistant Quiz 1
List at least 4 different chemicals found in the lab?
Ethanol, methanol, Boric Acid, Sulfuric Acid, HCL, Normal Saline, Na2Co3 (sodium bicarb), Methylene blue, K2MgPO4 (Potassium Permanganate)
2. What happens when you mix a base and a acid?
When you mix a strong base and a strong acid you get a salt and a water.
NaOH (base) + HCL (acid) —————> NaCl (salt) + H2O (water)
3. List the lab tests that are in the lipid profile?
Total Cholesterol, Triglycerides, LDL (Low density lippoproteins) , HDL (High Density Lippoproteins)
4. Put the following chemicals in order of greatest flammability.
Crude oil, methanol, ethanol
#1 Methanol CH4 #2. Ethanol #3 Crude Oil
5. Give a brief explanation of the duties of a laboratory assistant?
A lab assistant helps the Medical Laboratory Technologists prepare solutions, keep the lab clean, perform quality assurance control tests on the machines, perform urineanalysis tests, point of care finger sticks, and keeps records of controls, expiration dates.
6. What type of education does a clinical laboratory technician have? 4 year BS degree
7. Sulfur is a chemical that can be very dangerous? Why?
Sulfur paralyzes the olfactory senses of smell and can cause the person to no longer smell the dangerous chemical thereby poisoning them.
8. Why are quality control logs necessary?
To be sure that the tests are working properly and that they are within their expiration date.
9. When performing an HIV test on a client, what must you be aware of, and what steps must you follow?
To be sure to adhere to all infection control procedures, donning PPE, goggles, and medical asepsis.
10.The 10 panel drug screen tests for what drugs?
Benzodiazapines, Methamphetamine's, Barbituates, Cocaine, Ecstasy, THC, Opiates,
List the different divisions of the laboratory.
Why wouldn't you clean the alcohol breathalyzer with alcohol pads?
Explain how you would clean up an acid spill that is 1 oz?
Explain how you would clean up an acid spill that is 1 gallon?
What happens to the atmosphere when ethanol is spilled in large quantities?
List the data that is normally required for a quality control log?
Why do you add saline to the HIV test card prior to adding the blood?
Why are quality controls necessary?
Why is it important to check the temperature in the refrigerator?
List the tests included in a chemistry profile?
Why is it important to measure blood gases? What are the bodies blood gases?
(22 points) List the 10 components in a U/A test and give a brief explanation of each of the components as to the reason they may be elevated.
Explain how to obtain a clean catch urine.
Upon applying the chemical reagent to the stool card, what color will it turn if the stool is positive for blood?
Factor V, IX, X are blood tests that look for specific clotting abnormalities.
What color tube will these test be done in?
What special preparation is needed?
You patient has a PT/INR of 3.8, Choose the best explanation below.
This is considered above the normal range and the Doctor must be called. It indicates that the patient 's blood is taking too long to clot.
This is considered below normal range and the Doctor must be called. It indicates that the blood is clotting normally and not therapeutically.
State the reasoning that we use sterile normal saline as a reagent for the HIV test.
What would you think the significance of pale red blood cells indicate?
Your patient has a white cell count of 40,000, explain this result?
List the White Blood Cells of the Body
Clinical Laboratory Assistant Quiz 1
1. List at least 4 different chemicals found in the lab?

NaOH, KOH, NaCO3, HCL, K2MnPO4, H2SO4, Ethanol, Methanol, H2O2,

2. What happens when you mix a base and an acid?

A slat and a water, ie, NaOH (strong base) + HCl (strong acid)———— NaCl (salt) + HOH(water)

3. List the lab tests that are in the lipid profile?

Triglycerides, Total cholesterol, HDL (High Density Lipoprotein's) , LDL (Low Densisty Lipoproteins's)

4. Put the following chemicals in order of greatest flammability.

Crude oil, methanol, ethanol

Methanol, ethanol, crude oil

5. Give a brief explanation of the duties of a laboratory assistant?

Assistant to the Laboratory Technician, prepare Quality control reports, do point of care testing, prepare and clean up.

6 . What type of education does a clinical laboratory technician have?

BS in Medical science, Medical Technology

7. Sulfur is a chemical that can be very dangerous? Why?

Paralyzes the olfactory senses, and makes the person unaware that they are in danger

8. Why are quality control logs necessary?

To be sure that the test machines are working properly and are calibrated to keep tests accurate.

9. When performing an HIV test on a client, what must you be aware of, and what steps must you follow?

Use of therapeutic communication, proper isolation techniques.

10. The 10 panel drug screen tests for what drugs?

cocaine

amphetamines

methamphetamines

tetrahydrocannabinol (marijuana)

methadone

opiates

phencyclidine

barbiturates

benzodiazepines

tricyclic antidepressants

11. List the different divisions of the laboratory.

Hematology, Microbiology, Blood Bank, Cytology, Histology, Toxicology, Serum Chemistry

12. Why wouldn't you clean the alcohol breathalyzer with alcohol pads?

It would cause the patient to have a false positive

13. Explain how you would clean up an acid spill that is 1 oz?

Sand or NaCO3 Sodium Bicarbonate

14. Explain how you would clean up an acid spill that is 1 gallon?

Immediately evacuate area of all personnel, and call hazardous materials cleanup crew.

15. What happens to the atmosphere when ethanol is spilled in large quantities?

Because ethanol is heavier than air, it displaces oxygen and causes a area that is immediately dangerous to life and health, by displacing oxygen, especially in lower levels. (get out of the room and evacuate everyone, go to higher ground and well ventilated area)

16. List the data that is normally required for a quality control log?

Time, temperature, expiration date, control value

17. Why do you add saline to the HIV test card prior to adding the blood?

To act as a medium to transport the blood upwards on the strip.

18. Why is it important to check the temperature in the refrigerator?

The temperature control needs to be at 38 deg F to make sure that the specimens and tests quality is preserved.

19.List the tests included in a chemistry profile?

Glucose, Albumin, SGOT also called (AST), SGPT also called (ALT), Direct Bilirubin, Alk PHos, K, Na, Cl, CO2, BUN/CREAT, Ca,

20.Why is it important to measure blood gases? What are the body's blood gases?

To make sure that the bodies pH is balanced. pH, PCO2, PO2, HCO3

21. (22 points) List the 10 components in a U/A test and give a brief explanation of each of the components as to the reason they may be elevated.

Explain how to obtain a clean catch urine.

Instructions for Collecting a Clean Catch Urine Sample

INSTRUCTIONS FOR FEMALES

1. Wash hands with soap and warm water.

2. Spread the labia (folds of skin) apart with one hand and wipe with the towelette provided.

Wipe from front to back.

3. Continue holding the labia apart. As you start to urinate, allow a small amount of urine

to fall into the toilet bowl. (This clears the urethra of contaminants) Do not touch the

inside of the cup.

4. After the urine stream is well established, urinate into the cup. Once an adequate amount

of urine fills the cup (the cup only needs to be half-full), remove the cup from the urine

stream.

5. Pass the remaining urine into the toilet.

6. Screw the lid on the cup tightly (do not touch the inside of the cup or lid). Give the

cup to the Customer Service Tech.

INSTRUCTIONS FOR MALES

1. Wash hands with soap and warm water.

2. If uncircumcised, retract foreskin.

3. Wipe the end of penis with towelette provided. As you start to urinate, allow a small

amount of urine to fall into the toilet bowl. (This clears the urethra of contaminants)

Do not touch the inside of the cup.

4. After the urine stream is well established, urinate into the cup. Once an adequate amount

of urine fills the cup (the cup only needs to be half-full), remove the cup from the urine

stream.

5. Pass the remaining urine into the toilet.

6. Screw the lid on the cup tightly (do not touch the inside of the cup or lid). Give the

cup to the Customer Service Tec

22. Upon applying the chemical reagent to the stool card, what color will it turn if the stool is positive for blood?

Blue

23. Factor V, IX, X are blood tests that look for specific clotting abnormalities.

What color tube will these test be done in? light blue

What special preparation is needed? Fill the tube completely, freeze immediately

24. You patient has a PT/INR of 3.8, Choose the best explanation below.

This is considered above the normal range and the Doctor must be called. It indicates that the patient 's blood is taking too long to clot. (correct answer)

This is considered below normal range and the Doctor must be called. It indicates that the blood is clotting normally and not therapeutically.

25.What would you think the significance of pale red blood cells indicate?

Anemia

26. Your patient has a white cell count of 40,000, explain this result?

Increase, sign of infection

27. List the White Blood Cells of the Body

Lymphocytes, eosinophils, basophils, neutrophils, monocytes